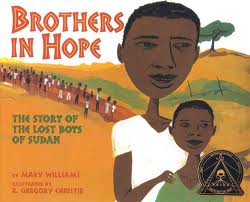 Brothers in Hope: The Story of the Lost Boys of Sudan
By Mary Williams
Illustrated by R. Gregory Christie
Published by Lee and Low
"Powerful and deeply moving." —Kirkus Reviews
Find a copy at Amazon | IndieBound | B&N
Description
A young boy unites with thousands of other orphaned boys to walk to safety in a refugee camp in another country, after war destroys their villages in southern Sudan. Based on true events.
Eight-year-old Garang, orphaned by a civil war in Sudan, finds the inner strength to help lead other boys as they trek hundreds of miles seeking safety in Ethiopia, then Kenya, and finally in the United States.
Reviews & Accolades
ALA Notable Children's Book
Coretta Scott King Illustrator Award Honor
"…Christie's distinctive acrylic illustrations, done in broad strokes of predominantly green, yellow, and burnt orange, are arresting in their combination of realism and the abstract, and reflect the harshness yet hopeful nature of the landscape and the situation. An afterword tells what happened once 3800 of the boys resettled in America. This important profile in courage is one that belongs in most collections." —Mary N. Oluonye, School Library Journal
"…Williams tells the story directly, without sensationalism or cover-up, and Christie's powerful acrylic paintings show the long lines moving across desert, forest, and savannah, as well as the special bond between Garang and a younger boy he adopts and the aid worker who helps him reach America. Williams' notes fill in facts." —Hazel Rochman, Booklist
"…Williams allows Garang to narrate his story of unimaginable suffering and pain and the atrocities of war. Christie's strongly hued acrylic paintings provide graphic accompaniment in his affecting style. Powerful and deeply moving." —Kirkus Reviews
"An inspiring account of the survival of thousands of young boys in the war-torn country of Sudan in the mid-1980s, Williams' picture book is a must-read for children and adults alike…This compelling story is rendered all the more powerful by the illustrations of award-winning artist R. Gregory Christie. The author's note and afterword provide historical information on the Lost Boys' journey and the resettlement of 3,800 of the survivors in the US." —Bloomsbury Review
"…[T]he events will keep readers turning the pages, as the youngsters make their dangerous journey by night, sleeping in the forest by day…Garang never loses faith or hope–something that Williams, in her introduction, says she witness firsthand when she met several of the Lost Boys. Christie's acrylics, in bold strokes and brilliant colors, with their childlike renderings of figures and scenes, correlate nicely to the young narrator's unflagging determination, and help to balance the darkness of the events." —Publisher's Weekly
Groups Represented
South Sudanese
Themes
Building futures, leadership
Setting
Southern Sudan, Ethiopia, Kenya
Author Research
Mary Williams has traveled extensively in the U.S. and internationally. She has worked with several humanitarian organizations including U.N.E.S.C.O. and The International Rescue Committee. In 2000 Williams met some of the Lost Boys of Sudan who relocated to the United States. She was so moved by their story she created The Lost Boys Foundation (now defunct), dedicated to raising awareness about these young men and raising resources to help them.
While writing the book Brother's in Hope, Williams believed it vital when articulating the experiences of a culture other than her own that she work closely with those who are of that culture. She was fortunate to have the "Lost Boys" who graciously made comments and suggestions on several drafts of the story so that it was as true to the people and the experience as possible. Because of this she had very few challenges in writing a story that rang true.
They shared their powerful stories of hope and survival and Williams merely created a platform to help it reach a wider audience. One young man in particular was the main inspiration for the story: Valentino Achak Deng.
She chose to write a book for children because Valentino was also the focus of an adult version of the Lost Boys story, What Is the What, written by Pulitzer Prize nominated author Dave Eggers. At the time Williams didn't see very many books directed at children about the refugee/children of war experience and decided to make a contribution.
Engagement Projects
VIEW a Teacher's Guide PDF
Leave a comment and let us know how you use this title!