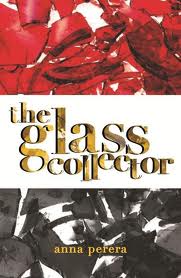 The Glass Collector
By Anna Perera
Published by Albert Whitman and Company

"Perera draws a vivid portrait of the community's squalid living conditions, as people eat, sleep, and work amid piles of rotting garbage collected for recycling, while dreaming of better futures…A powerful rendering of human struggle, resilience, and hope." —Publisher's Weekly
Find a copy at Amazon | IndieBound | B&N
Description
Fifteen-year-old Aaron lives amongst the rubbish piles in the slums of Cairo. His job? To collect broken glass. His life? Wasted. His hope? To find a future he can believe in. Today in Cairo, Egypt, there is a city within a city: a city filled with garbage–literally. As one of the Zabbaleen people, Aaron makes his living sorting through waste. When his family kicks him out, his only alternatives are to steal, beg, or take the most nightmarish garbage-collecting job of all.
Reviews & Accolades
"A strong narrative voice captures multiple viewpoints of the "Zabbaleen," Coptic Christian citizens of Cairo's "Garbage City," while closely following 15-year-old orphan Aaron, the title character, as he struggles through the challenges of daily survival. Perera draws a vivid portrait of the community's squalid living conditions, as people eat, sleep, and work amid piles of rotting garbage collected for recycling, while dreaming of better futures…A powerful rendering of human struggle, resilience, and hope." —Publisher's Weekly
"This second novel by Perera illuminates the lives of Coptic Christians known as the Zabbaleen, a proud, family oriented, and downtrodden religious minority who handle the majority of Cairo's waste…this book offers an eye-opening view of Egypt." —Jess deCourcy Hinds, VOYA
"Given the recent events in Egypt, this book offers a unique look at one group of people fighting to survive amid shifting political sands." —Paula McMillen, Children's Literature
"Perera takes teen readers into a new world in this often-eloquent novel, if they have the patience to savor the rich descriptions and wait for the plot to pick up speed. A novel of hope and redemption in the most unlikely of settings." —Kirkus Reviews
"…an exquisitely rendered portrait of a little-known world…The Glass Collector is less a plot-driven novel than a series of character portraits and snapshots, some of which are taken directly from the news…The best part is its full-blooded portrait of Aaron, a likable boy seeking love in the grimmest of environments and moving between self-contempt and pride in his outcast identity." —Joshua Hammer, The New York Times Book Review
Groups Represented
Zabbaleen
Egyptian
Themes
Survival, homelessness, community, family relationships, religious faith
Setting
Cairo slums, Egypt
Author Research
TBA
Engagement Projects
Leave a comment and let us know how you use this title!