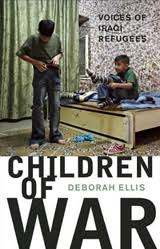 Children of War: Voices of Iraqi Refugees
By Deborah Ellis
Published by Groundwood Books
"An important, current title that will have lasting significance." —Hazel Rochman, Booklist
"All ages can relate to these children…a starting point for a discussion on the impact of war on children from the child's perspective." —Susan Allen, VOYA
Find a copy at Amazon | IndieBound | B&N
Description
The United States and its allies invaded Iraq seven years ago. Today the country is still at war, and no one can claim that true democracy has come. Four million Iraqis have been displaced, and about half of them, unable to flee the country, are now living in remote tent camps without access to schools, health care, or often even food and clean water. In Children of War, a companion title to Off to War: Voices of Soldiers' Children, Deborah Ellis turns her attention to the most tragic victims of the Iraq war — Iraqi children. She interviews two dozen young people, mostly refugees living in Jordan, but also a few who are trying to build new lives in North America. Their frank and harrowing stories reveal inspiring resilience as the children try to survive the consequences of a war in which they play no part.
Reviews & Accolades
"As in Three Wishes: Palestinian and Israeli Children Speak, Ellis gets behind the news images and lets the most vulnerable civilians bear witness to what today's wars are doing to their lives…Ellis is clear about the brutality of Saddam, his fall, the role of oil in the conflict, the U.S. invasion, and bombing…An important, current title that will have lasting significance." —Hazel Rochman, Booklist
"This technique of giving concise factual information, followed by children's accounts of how the violence of war has affected their everyday lives is powerful. It makes the information more accessible, and it makes war relevant and real." —Lorrie-Ann Melnick, Children's Literature
"The stories are poignant, heart wrenching, and ring with truth…All ages can relate to these children. The book, which is a good fit for school libraries, could be a starting point for a discussion on the impact of war on children from the child's perspective." —Susan Allen, VOYA
"…the voices are poignant, insightful, angry and hopeful. Their stories are given a solid context by a fine introduction that provides a brief history of the war, a two-page map and prefaces to each person's story. Photographs of the interviewees and a glossary round out an important chronicle of war and the world's most vulnerable-the children." —Kirkus Reviews
Groups Represented
Iraqi
Themes
War, displacement, loss of childhood, family death
Setting
Jordan, Canada
See Also
Three Wishes: Palestinian and Israeli Children Speak
Author Research
Since my involvement with Afghanistan, which began when news of the crimes of the Taliban hit the Toronto newspapers back in 1996, I have been trying to understand what war does to people. What the decisions made by people living in safety do to the daily lives of people whose opinions about the matter are not heard.
I've seen the way bombs and bullets shatter human bodies and devastate families. I've learned what happens when the destruction of infrastructure leads to bad water, food shortages and the lack of medical care. And I've heard from refugees about how their lives have been derailed and reduced to Waiting — for food, for shelter, for documents, for peace.
Through all the tales of crime and chaos, there has been one consistent champion — the educators. Teachers, whether professionally trained or picking it up as they go along, who carve out little niches of safety and childhood for the kids in need. Librarians who remind us that human beings are capable of creating things noble and sublime (is there anything more beautiful than a line of books on a shelf?). And others who, through music, art, sport or community building, lift us all up.
Books can help us remember what we have in common as humans.
And that's what I try to do with mine.
READ more about Deborah Ellis' work in Afghanistan and her books at her website
Engagement Projects
Leave a comment and let us know how you use this title!