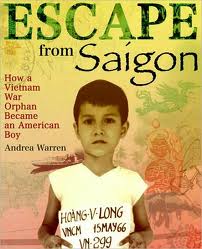 Escape from Saigon: How a Vietnamese Orphan Became an American Boy
By Andrea Warren
Published by Square Fish
"Dramatic accounts of other Vietnamese and American people's escape from Saigon on the eve of its collapse plus numerous b&w photos round out this informative book and help bring into clear focus the Vietnam War's effects on children." —Publisher's Weekly
Find a copy at Amazon | IndieBound | B&N

Description
Over a million South Vietnamese children were orphaned by the Vietnam War. This affecting true account tells the story of Long, who, like more than 40,000 other orphans, is Amerasian — a mixed-race child — with little future in Vietnam. Escape from Saigon allows readers to experience Long's struggle to survive in war-torn Vietnam, his dramatic escape to America as part of "Operation Babylift" during the last chaotic days before the fall of Saigon, and his life in the United States as "Matt," part of a loving Ohio family. Finally, as a young doctor, he journeys back to Vietnam, ready to reconcile his Vietnamese past with his American present.
As the thirtieth anniversary of the end of the Vietnam War approaches, this compelling account provides a fascinating introduction to the war and the plight of children caught in the middle of it.
Reviews & Accolades
"…The author mines the child's memories to create a sense of his early years in Vietnam, and the impact of war and scarcity on his family…Dramatic accounts of other Vietnamese and American people's escape from Saigon on the eve of its collapse plus numerous b&w photos round out this informative book and help bring into clear focus the Vietnam War's effects on children." —Publisher's Weekly
"…Warren covers the Vietnam conflict quickly, concentrating her text on the terrible dilemma of so many orphaned children and the world's efforts to save them. Long/Matt himself contributes considerably to the narrative, family photographs, as well as news photographs from the era, help readers visualize Vietnam life before, during, and after the conflict…A compelling read, the book reveals much about the outcome of wars to common people and is a comfort to anyone who has had to leave his or her country as a result of war or politics because Matt succeeds in the loving Mennonite family who adopted him in the 1970s." —Susan Hepler, Children's Literature
"The war in Vietnam may seem like ancient history to YAs today, and the war orphans of that era now are in their 30s; still, there is unfortunately a universality and timelessness in the story of children suffering in war-torn societies, and an inspiration in learning of those who care for and love these children." —Claire Rosser, KILATT
"…Lavishly illustrated with archival photographs, the narrative is interspersed with just the right amount of war history, never losing the focus on Long and his experiences and ratcheting up the emotional intensity as he lifts off from Vietnam and lands in Chicago. A prefatory note explains that conversations have been "reconstructed . . . from the memories of [eye]witnesses," with the caveat that those memories may not always be completely accurate. Appendices include multimedia resources for further research and a bibliographic essay on sources." —Kirkus Reviews
Groups Represented
Vietnamese
Themes
Immigration, adoption, family death, family relationship, cultural identity
Setting
Saigon, Chicago
Author Research
Writing about the final days of the Vietnam War and the rescue of orphans with adoptive families waiting for them in other countries posed many challenges, but I was committed to the story because my adopted daughter was one of the children airlifted to safety. I was finally able to bring it to life after spending several weeks in Vietnam in 1996. Only then did I understand the country and its people.
Of greatest importance to my book were my interviews with Matt Steiner, his mother, and officials and volunteers who worked with the children. I also read a tremendous amount of history to get my facts straight.
Most study of war is through the eyes of those who fought it. I took a different view—that of children orphaned by it and the brave adults who helped rescue them at the end. I also relate how Matt, who is Amerasian, came to America, his adjustment to a new family and culture, and how he made peace with his past. Because I wrote about a young person, I knew this was a story for young readers. They closely identify with what happens to Matt, and they don't forget it.
Engagement Projects
Leave a comment and let us know how you use this title!