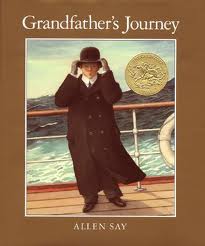 Grandfather's Journey
By Allen Say
Illustrated by Allen Say
Published by Houghton Mifflin Harcourt
"The immigrant experience has rarely been so poignantly evoked." —Horn Book
"A personal history of three generations of the author's family that points out the emotions that are common to the immigrant experience." —School Library Journal
Find a copy at Amazon | IndieBound | B&N

Description
Through compelling reminiscences of his grandfather's life in America and Japan, Allen Say gives us a poignant acount of a family's unique cross-cultural experience. He warmly conveys his own love for his two countries, and the strong and constant desire to be in both places at once.
Reviews & Accolades
Caldecott Medal Book, 1994
School Library Journal Best Books of the Year
New York Times Best Illustrated Children's Books of the Year
"A personal history of three generations of the author's family that points out the emotions that are common to the immigrant experience. Splendid, photoreal watercolors have the look of formal family portraits or candid snapshots, all set against idyllic landscapes in Japan and in the U.S." —School Library Journal
"The immigrant experience has rarely been so poignantly evoked." —Horn Book
"…In lucid, graceful language, he chronicles these passages, reflecting his love of both countries–plus the expatriate's ever-present longing for home–in both simple text and exquisitely composed watercolors: scenes of his grandfather discovering his new country and returning with new appreciation to the old, and pensive portraits recalling family photos, including two evoking the war and its aftermath. Lovely, quiet—with a tenderness and warmth new to this fine illustrator's work." —Kirkus Reviews
Groups Represented
Japanese
Japanese American
Themes
Cross-cultural experience, immigration, family relationships, memories
Setting
Japan, California, United States
Author Research
TBA 
Engagement Projects
Leave a comment and let us know how you use this title!