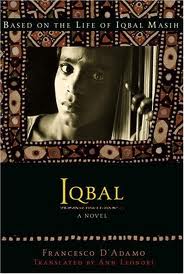 Iqbal
By Francesco D'Adamo
Translated by Anne Leonoir
Published by Aladdin
"An eye-opening, genuinely touching novel." —Publishers Weekly
"Iqbal's life was not in vain; the accounts here of children who were liberated through his and activist adults' efforts will move readers for years to come." —Kirkus Reviews
Find a copy at Amazon | IndieBound | B&N
Description
When young Iqbal is sold into slavery at a carpet factory, his arrival changes everything for the other overworked and abused children there. It is Iqbal who explains to them that despite their master's promises, he plans on keeping them as his slaves indefinitely. But it is also Iqbal who inspires the other children to look to a future free from toil…and is brave enough to show them how to get there.
This moving fictionalized account of the real Iqbal Masih is told through the voice of Fatima, a young Pakistani girl whose life is changed by Iqbal's courage.
Reviews & Accolades
"This moving docu-novel, translated from the Italian, adds a new dimension to the recent biographies of Iqbal Masih, the brave young activist who brought global attention to the appalling facts of contemporary child labor…the personal story is a close-up view of the power of Iqbal's cause and the anguish of his death. The harsh facts will rivet readers…The writing is simple yet eloquent." —Hazel Rochman, Booklist
"…[It] packs an emotional punch. An eye-opening, genuinely touching novel." —Publishers Weekly
"…We live shielded and sheltered, our eyes closed to atrocities and inhumanities. This book will open eyes." —Children's Literature
"This profoundly moving story is all the more impressive because of its basis in fact. Although the story is fictionalized, its most harrowing aspects are true… Fatima's first-person narrative grips from the beginning and inspires with every increment of pride and resistance the defiant Iqbal instills in his fellow workers. Although he was murdered for his efforts, Iqbal's life was not in vain; the accounts here of children who were liberated through his and activist adults' efforts will move readers for years to come." —Kirkus Reviews
"…This book can be a useful way to introduce students to the important topic of child labor as it exists in Pakistan. Several websites are in the glossary for readers who want to know more. It is amazing to learn about how much one determined person can change, regardless of his age or circumstances." —Edi Campbell, Crazy QuiltEdi
Groups Represented
Pakistani
Themes
Child labor, activism, corruption, human rights, social justice
Setting
Pakistan
Author Research
TBA
Engagement Projects
Leave a comment and let us know how you use this title!