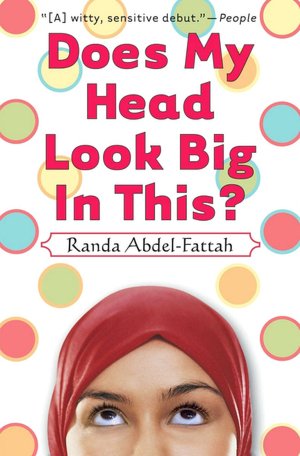 Does My Head Look Big In This?
By Randa Abdel-Fattah
Published by Orchard Books
"…the book is wonderful at showing the diversity within Muslim communities and in explaining why so many women choose to wear the hijab." —School Library Journal
"What's so good about the story is just how easy it is for non-Muslim readers to relate to Amal; and I'm sure Muslim readers will snap this one up since they rarely see themselves portrayed in YA literature." —KLIATT
Find a copy at Amazon | IndieBound | B&N

Description
Sixteen-year-old Amal makes the decision to start wearing the hijab full-time and everyone has a reaction. Her parents, her teachers, her friends, people on the street. But she stands by her decision to embrace her faith and all that it is, even if it does make her a little different from everyone else. Can she handle the taunts of "towel head," the prejudice of her classmates, and still attract the cutest boy in school? Brilliantly funny and poignant, Randa Abdel-Fattah's debut novel will strike a chord in all teenage readers, no matter what their beliefs.
Reviews & Accolades
Australian Book of the Year for Older Children Winner, 2006
Children's Book Council Notable Book, 2006
Long listed for the UK Galaxy Book Awards, 2006
Short listed for the Grampian Children's Book Awards UK, 2006
"With an engaging narrator at the helm, Abdel-Fattah's debut novel should open the eyes of many a reader…As Amal struggles with her identity in a post-9/11 world ("Do you have any idea how it feels to be me, a Muslim, today? I mean, just turn on the television, open a newspaper…. It feels like I'm drowning in it all"), her faith-and an array of ever-ready quips-help her navigate an often-unforgiving world. Using a winning mix of humor and sensitivity, Abdel-Fattah ably demonstrates that her heroine is, at heart, a teen like any other. This debut should speak to anyone who has felt like an outsider for any reason."
 —Publisher's Weekly
"…Throughout the book, Amal makes candid yet astute observations on what it means to be a Muslim, a modern woman, and a good friend and daughter. Although the book addresses many teen issues including identity, family, religious traditions, and body image, it rarely strays into the realm of didactic. There is plenty of gentle humor, and strong female relationships balance Amal's racist classmates and a friend's crushingly traditional Muslim parent. In addition to her friendships, Amal also tries to deal with a crush that she knows will never develop into a romance and the hypocritical behaviors of some of her cousins. This novel is an excellent addition to the multicultural and chick-lit genres, and it is recommended for most collections." —VOYA
"What's so good about the story is just how easy it is for non-Muslim readers to relate to Amal; and I'm sure Muslim readers will snap this one up since they rarely see themselves portrayed in YA literature…Fun and just what we need in the way of diversity."  —KLIATT
"Though the lengthy analyses on everything from female body image to Palestinian food give the book more message than momentum, the girls' thoughts and dreams are authentically adolescent, providing a bridge between cultures."  —Horn Book Magazine
"While the novel deals with a number of serious issues, it is extremely funny and entertaining, and never preachy or forced. The details of Amal's family and social life are spot-on, and the book is wonderful at showing the diversity within Muslim communities and in explaining why so many women choose to wear the hijab." —Kathleen E. Gruver, School Library Journal
Groups Represented
Muslim
Greek Orthodox
Secular and Orthodox Judaism
Japanese Australian
Palestinian Australian
Pakistani Australian
Themes
Religion, identity, self-image, immigration, family relationships
Setting
Melbourne (Australia)
Author Research
School playgrounds are no longer mono-cultural. They're melting pots of cultures, races and faiths. So how do teenagers from minority communities negotiate their existence and identity when they're burdened by stereotypes and prejudices? And how do teenagers who don't conform to popular culture's so-called role models of beauty and lifestyle find the strength to be true to themselves? These are the kinds of questions I try to explore in Does My Head Look Big In This? and Ten Things I Hate About Me. Whether it's Amal, who has decided to wear the hijab, or Timothy, who refuses to conform just to fit in with the popular crowd, or Simone, who wants to be thin, or Jamilah, who lives a double life to avoid people knowing about her background, I'm interested in the pressures teenagers have to cope with in trying to find their identity.
"Nappy-head". "Towel-Head." "Terrorist". For Muslim teenage girls who wear the hijab, and are therefore immediately identifiable as Muslims, the main struggle is to live against the perception that you are oppressed or part of a threatening 'other'. It's exhausting to always be on the defensive, resisting a stereotype of victimhood, especially when you're a teenager trying to figure out who you are! I wrote Does My Head Look Big In This? and Ten Things I Hate About Me because I wanted to explore characters who are really struggling to figure out who they are and fit in. Some of them feel like they're living in a zoo: locked in the cage of other people's stereotypes, prejudices and judgments, on parade to be judged! Others want to be accepted for who they are, but can't even accept themselves. Ultimately, my characters are learning that if they want the respect of others, they have to have self-respect first.
Engagement Projects
Leave a comment and let us know how you use this title!