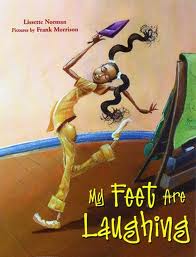 My Feet Are Laughing
By Lissette Norman
Illustrated by Frank Morrison
Published by Farrar, Straus and Giroux
"My Feet Are Laughing is a positive addition to the body of multicultural children's literature and will easily appeal to a second-generation immigrant audience through its combination of references to hip hop, the urban landscape, and life in a modern family within Latino culture." —Sybil Durand, Purdue University Press
Find a copy at Amazon | IndieBound | B&N

Description
Sadie likes living in her grandmother's brownstone, where she has her own bedroom and a backyard to play in. She's full of thoughts and has lots to say about her family and friends, her home, her hair, and her laughing feet that can't keep still. And when she grows up she plans on being a poet.
This collection of sixteen exuberant poems in the voice of a young Dominican American girl and energetic, bright paintings celebrates Sadie's family and the city around her.
Reviews & Accolades
Bank Street-Best Children's Book of the Year, 2007
"…Blending familial love and the optimism of youth, they convey Sadie's irrepressible personality…Sadie's upbeat spirit is equally matched by Morrison's contemporary, graffiti-influenced illustrations that explore the child's urban neighborhood as well as the richness of her life. Done in a palette of bright greens, warm tangerines, and deep purples, the paintings feature sharp angles, elongated forms, and figures that are stretched and bowed. A sweet, hip, and joyous book." —School Library Journal
"…Norman, whose parents, like her heroine's, hail from the Dominican Republic, has done just that with her first children's book…[Morrison's] snappy illustrations, drenched in purples and golden browns, dance in their own right as they bring Sadie's multicultural world to light." —Publisher's Weekly
"…These stories speak of cultural experiences and settings outside of the reader's context and can serve as an introduction to new ways of living…Lissette Norman uses poems that allow Sadie to share her understanding of her life through revelations of family, place, and culture…My Feet Are Laughing is a positive addition to the body of multicultural children's literature and will easily appeal to a second-generation immigrant audience through its combination of references to hip hop, the urban landscape, and life in a modern family within Latino culture. My Feet Are Laughing will also present positive aspects of urban life to those children living outside of it and perhaps also serve in a small way as an introduction to an international culture as present in American society." —Sybil Durand, Purdue University Press
Groups Represented
Dominican American
Themes
Childhood, aspirations, family death, divorce, urban life, family relationship
Setting
Urban America
Author Research
TBA
Engagement Projects
Leave a comment and let us know how you use this title!