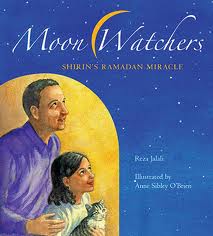 Moon Watchers: Shirin's Ramadan Miracle
By Reza Jalali
Illustrated by Anne Sibley O'Brien
Published by Tilbury House
"Non-Muslim readers will walk away with a more developed global perspective, [and] Muslims will relate the tale to their own Ramadan experiences" —ForeWord Reviews
Find a copy at Amazon | IndieBound | B&N
Description
Looking through the tall trees in their backyard in Maine, Shirin and her dad search for a glimpse of the new moon, the sign that the month of Ramadan has begun. Ramadan is a time when Muslims around the world pray, fast, and pay special attention to doing good deeds. Shirin is nine and thinks she should be able to fast like her older brother Ali, but her parents feel she is still too young to go without food and water all day. When Shirin catches Ali sneaking food after school, she wonders: Should she tattle or is this an opportunity for a good deed? Shirin feels left out when the others break their fasts to have their own meals after dark and in the early morning, before it is light again. But then her grandmother tells a story that shows her a way she can feel more a part of Ramadan and the traditions and closeness her family enjoys during this special month of the year. Her good deeds result in a surprise for everyone!
Reviews & Accolades
Skipping Stones Honor Book, 2011
Maine Literary Award Finalist, Children's Books, 2011
"This moving picture book for older readers about a young Muslim girl and her family at Ramadan weaves together the traditional observance and its meaning with a lively drama of sibling rivalry…The unframed, intricately detailed, mixed-media illustrations show the siblings' ugly standoffs (Shirin's jealousy, Ali's smugness), as well as the family at prayer, at the dinner table, and in warm close-ups. Along with the information about the holiday, there is a real story here: when Shirin helps Ali, it changes their relationship and reveals the meaning of the holiday." –Hazel Rochman, Booklist
"…This book is perhaps most valuable as a lesson on Islam. Each practice and tradition is explained, but without disrupting the pace of the story. Non-Muslim readers will walk away with a more developed global perspective, Muslims will relate the tale to their own Ramadan experiences, and every young reader will identify with hearing that terrible phrase: 'you're too young.'" —ForeWord Reviews
Groups Represented
Muslim
Muslim American
Themes
Celebration, family, tradition
Setting
Maine
Author Research
A sky watcher, Reza believes we each have a star named after us. He continues to search the night sky to find his and those of his family and friends. Reza remembers his own childhood Ramadans this way:
"Some of the happiest memories from my childhood in Iran are from the time when my family observed Ramadan. In bigger cities the signal to stop eating and start the fast would be announced by the boom of a single cannon, but in our town (before people got alarm clocks) men from the neighborhood would go around beating the ground with their sticks, reminding us that it was time to finish our pre-dawn meal. My mother, always the storyteller, told me that in the old days, those fasting would check the time in the evening by carrying outside two strings of cloth—one black, another white—to see if they could be told apart in the waning light. When they looked the same, it was time to break the fast. I was a moon watcher as a child, fascinated by how the moon seemed to follow me around. (Afraid of being teased by older boys, I kept this to myself.) Even now, I chuckle when I catch a glimpse of the moon following me around as I walk outside under a full moon in the Maine night sky. I hope our children, Azad and Setareh, will have their own stories of Ramadan and will share them with others one day."
Engagement Projects
DOWNLOAD a discussion and engagement guide for the book
READ about the Moon Watchers engagement event in the community wide read series I'm Your Neighbor, Portland
Leave a comment and let us know how you use this title!