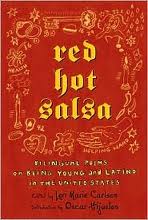 Red Hot Salsa: Bilingual Poems on Being Young and Latino in the United States
Edited by Lori Marie Carlson
Published by Henry Holt and Company
"By turns humorous and poignant, nostalgic and immediate, these poems represent a diversity of experiences, underpinned by emotions that anyone can recognize." —Marilyn Taniguchi, School Library Journal
Find a copy at Amazon | IndieBound | B&N

Description
Ten years after the publication of the acclaimed Cool Salsa, editor Lori Marie Carlson has brought together a stunning variety of Latino poets for a long-awaited follow-up. Established and familiar names are joined by many new young voices, and Pulitzer Prize-winning novelist Oscar Hijuelos has written the Introduction.
The poets collected here illuminate the difficulty of straddling cultures, languages, and identities. They celebrate food, family, love, and triumph. In English, Spanish, and poetic jumbles of both, they tell us who they are, where they are, and what their hopes are for the future.
Reviews & Accolades
"…In Spanish and English, the poets speak eloquently of themselves, how and where they live, their families, and their dreams for the future…By turns humorous and poignant, nostalgic and immediate, these poems represent a diversity of experiences, underpinned by emotions that anyone can recognize…Carlson has crafted an accessible gem of a collection, and teen readers of all backgrounds will find echoes of their own experiences in its pages." —Marilyn Taniguchi, School Library Journal
"...the poems often speak about the complex challenges of being bicultural…many are written in an inventive blend of languages, which English speakers will easily follow with help from the appended glossary. Powerful and immediate, these are voices students and teachers will want to share." —Gillian Engberg, Booklist
"In this follow-up to Cool Salsa, Carlson has brought together not only well known poets but also student poets in this collection that illustrates the hardships of growing up in two cultures…altogether we get the feeling of what it is like growing up Latino." —Maria E. Gentle, Children's Literature
"…the poems elicit not just the particulars of people and place, but of being an adolescent…the translations add an essential dimension to the book-a sense of an inclusive and diverse community" —Kirkus Reviews
Groups Represented
Hispanic
Themes
Cultural identity, bilingualism, memories, multicultural relationships, family relationships
Setting
Various US cities
Author Research
Red Hot Salsa is a companion volume to my anthology Cool Salsa. I decided to create Red Hot Salsa because so much had changed for and within the Latino community in the decade after Cool Salsa was first published. I thought it might prove beneficial to give my readers another look at the poetic output of Latino writers in this new environment. In addition, the enthusiastic response to Cool Salsa seemed to warrant another helping of "good stuff." I chose my contributors from circles of friendship; superb publications; and like-minded contingents. There is an urgency and significance to their message. Some of my readers will wonder why a woman with a Swedish/Italian background cares so much about Spanish and Latino culture; my passion comes from a lifelong interest in Spanish-speaking communities and the language. My formal education is in the discipline, and most of my work has been devoted to helping the Latino community flourish. And some may also wonder: Why poetry and why a young adult focus? Poetry is beloved among Latin Americans. The genre is at the heart of the culture. And young adults are the future of our country. If we, as educators and writers, fail our adolescents, the prospects of our nation are diminished. Latino youth, like all of our youth, have a lot to give, and they need our wholehearted support. Often times they are growing up in less than ideal circumstances. (Witness what is happening along the border and in states where recent legislation is aimed directly at them.) We must, as a nation, do a better job in upholding our vulnerable young people. Red Hot Salsa is, really, about lending a hand.
Engagement Projects
Leave a comment and let us know how you use this title!