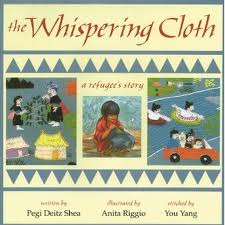 The Whispering Cloth: A Refugee's Story
By Pegi Deitz Shea
Illustrated by Anita Riggio
Published by Boyds Mill Press
"…The stitched pictures in folk-art style distance the brutality, both showing and telling that art can be a powerful force…" —Booklist
Find a copy at Amazon | IndieBound | B&N
Description
Mai spends her days at the Widows' Store, listening to the Hmong women as they stitch and talk, stitch and talk. They are making pa'ndau—brightly colored story cloths–which they sell to the traders from Chiang Khan. Mai wishes she, too, could make one of the beautiful pa'ndau, but what story could she tell? This moving and poignant tale depicts life in a refugee camp in Thailand. Mai lives there with her grandmother, who helps her as she struggles to perfect her stitchery. Only by going back into her own brief and tragic past can she find a story to tell–one of hope and faith in the midst of war and confinement. Anita Riggio has rendered lush and sensitive watercolors that frame the story. You Yang, a Hmong immigrant, has stitched the pa'ndau that tell Mai's tale.
Reviews & Accolades
"With the aid of her wise Grandmother, she gradually learns how to make her own cloth and in doing so, comes to terms with her own short but eventful life story. Colorful watercolors combined with pictures of actual Hmong embroidered cloths help bring this sad but hopeful story to life. A glossary, map and short forward about the Hmong people also are included." —Children's Literature
"During a visit to a Hmong refugee camp in Thailand, Shea saw women embroidering pa'ndau, narrative tapestries, and noticed a girl who became the model for the heroine of this picture book…Opening with a hard-hitting recollection of her parents' deaths at the hands of soldiers (""Little Mai slept between her mother and father, who were very beautiful even though blood dripped from their heads""), Mai's pa'ndau ends on a wishful note, describing an airplane trip ""to a village where homes were as big as mahogany trees."" Closeup photos of Yang's textured needlework, as well as Riggio's accomplished watercolor and gouache paintings, add to the poignancy of the tale. Bound to elicit many questions."  —Publisher Weekly
"…Soft-toned watercolor and gouache illustrations set the story in the present; then reproductions of the real stitched story cloths by Hmong refugee You Yang show the child's war experiences. The stitched pictures in folk-art style distance the brutality, both showing and telling that art can be a powerful force..." —Booklist
Groups Represented
Hmong
Themes
Refugee life, family relationships, family death
Setting
Thai refugee camp
See Also
Tangled Threads: A Hmong Girl's Story (YA sequel to The Whispering Cloth)
Author Research
Most of my work deals with world-wide, social justice issues (ex., child labor, war), because I became an activist at 8. My adolescence was rocked by the assassinations of Martin Luther King and Robert F. Kennedy, civil and women's rights movements and, most importantly, the Vietnam War. The violent footage inspired me to learn more about the cultures of Southeast Asia, and I vowed to travel there someday.
I got my chance in 1989 when my friend, Susan Beam, invited me to Thailand and to visit the refugee camp she worked in. The Hmong hill tribe people were driven out of their lands for helping Americans during the Vietnam War. Despite the depressing and disease-causing conditions in the camp, I was inspired by the resilient refugees making art, specifically the girls and women sewing "pa'ndau" storycloths. I wrote a picture book, The Whispering Cloth: A Refugee's Story, which includes paintings by Anita Riggio and stitchwork by a Hmong refugee, You Yang. While researching, I interviewed many Hmong refugees in the U.S. who were trying to balance their traditional ways with modern life. Those interviews led me to write Tangled Threads: A Hmong Girl's Story. I set it in the Hmong community of Providence, because I could drive there in about 90 minutes to conduct interviews and observe ESL classes. I've also attended many Hmong New Year celebrations and even a wedding. I've since made Hmong friends in Minnesota, California and Wisconsin, as well as throughout New England—even in my home town!
Because I'm not Hmong, I asked a good deal of Hmong to read my manuscripts for accuracy before publication.  The biggest challenge, though, was trying to make Mai sound natural. I originally wroteThe Whispering Cloth in first person, but it sounded "clunky" having Mai (then 7) explain her situation. Changing it to third person allowed the narrator to inform readers. So when I drafted Tangled Threads, I used third person, but my editor said it sounded like I dumped years of research onto the pages–which was exactly true! Changing it to first person made Mai come alive.  I've since written a YA novel, Stitch in Time, (Kindle Books) about Mai having to choose between art school and marriage. That's in first person too. I'm contemplating a novel for adults about Mai returning to Laos. It might be the very first instance of a picture book character growing up through middle grade and YA novel formats into an adult novel.
When it comes to writing, I'm game for any challenge!
Engagement Projects
Leave us a comment and let us know how you use this title!