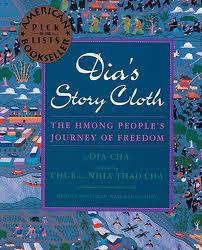 Dia's Story Cloth
By Dia Cha
Stitched by Chue and Nhia Thao Cha
Published by Lee and Low Books
"Using details from the cloth as illustrations, Cha retells her life story, a meeting of Hmong history and a classic American immigration tale…The text is subdued; it is the needlework that drives home the poignancy of this cataclysmic account. "–Publisher's Weekly
Find a copy at Amazon | IndieBound | B&N
Description
Published to widespread acclaim in hardcover, "Dia's Story Cloth" tells the tale of a young girl and her family's displacement during the war in Laos and Vietnam. The Hmong people's search for freedom is depicted on a colorful story cloth.
Reviews & Accolades
"A folk art masterpiece from a Southeast Asian culture stands at the center of this thoughtful book. Intricately composed, painstakingly stitched by hand, the "story cloth" of the title was created by the author's aunt and uncle, Hmong who fled their native Laos for a refugee camp in Thailand. The story cloth records their experiences-which are also the author's own. Using details from the cloth as illustrations, Cha retells her life story, a meeting of Hmong history and a classic American immigration tale…The text is subdued; it is the needlework that drives home the poignancy of this cataclysmic account. For advanced readers, a lengthy afterword, by Joyce Herold, Denver Museum of Natural History's curator of ethnology, sets out historical background and assesses the story cloth as an art form." –Publisher's Weekly
"Based on a traditional Hmong story cloth, this picture book depicts the story of the author's family… Extensive notes describe the history and ways of the Hmong people and how their art, combining needlework and storytelling, continues in U.S. An unusual introduction to the Hmong." –Carolyn Phelan, Booklist
"An interesting and unusual title that resists neat categorization…Part autobiography, part history, part description of a changing culture adapting life and art to new circumstances, the book serves as a brief introduction to the Hmong people." –School Library Journal
"One of the most poignant, beautifully told family histories. This book brings alive the Hmong story as never seen before." –San Francisco Chronical
Groups Represented
Hmong
Themes
Immigration, refugee life, Hmong history, cultural traditions
Setting
Laos, Thailand refugee camp, United States
Author Research
TBA
Engagement Projects
Leave a comment and let us know how you use this title!