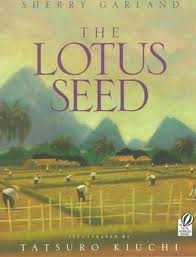 The Lotus Seed
By Sherry Garland
Illustrated by Tatsuro Kiuchi
Published by Houghton Mifflin Harcourt
"A thoughtful, beautifully designed book that will find a place in many discussions."  –Kirkus Reviews
"The spare simplicity of Garland's tale about remembering one's birthplace is richly amplified by Kiuchi's arresting, light-filled paintings" –Publisher's Weekly
Find a copy at Amazon | IndieBound | B&N
Description
Forced to flee her beloved Vietnam to escape a devastating civil war, a woman takes only her children and a single lotus seed to remember the emperor by. Years later, when her grandson takes the seed, she thinks all is lost until the beautiful lotus blossom reminds her of home and gives her grandchildren something to remember her by. This story will help readers appreciate those who must start anew without forgetting their past.
Reviews & Accolades
"This tale of hope and continuance is told with disarming simplicity. Interesting oil paintings, largely in earth tones, are slightly mannered, yet culturally accurate, and often moving in their amplification of the text. A warm addition to school and public library collections."  –John Philbrook, School Library Journal
"The Japanese illustrator debuts with spare, formally composed paintings reflecting the quiet mood and elegiac tone. A thoughtful, beautifully designed book that will find a place in many discussions."  –Kirkus Reviews
"The spare simplicity of Garland's tale about remembering one's birthplace is richly amplified by Kiuchi's arresting, light-filled paintings–his debut–awash with burnished gold and greens. As elegant as the lotus flower itself, the book's design includes subtle white borders on cream paper that frame both the poetic text and the opposing portrait-like illustrations…Exquisite artwork fuses with a compelling narrative–a concise endnote places the story effectively within a historical context–to produce a moving and polished offering." –Publisher's Weekly
Groups Represented
Vietnamese
Vietnamese-American
Themes
Wartime experience, immigration, memories
Setting
Vietnam
Suburban United States
Author Research
TBA
Engagement Projects
VIEW a Teacher's Guide from Sherry Garland's website

Leave a comment and let us know how you use this title!