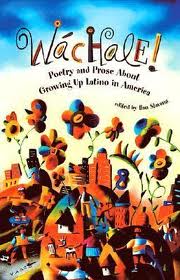 Wachale! Poetry and Prose about Growing Up Latino
Edited by Ilan Stavans
Published by Cricket Books/Marcato
"For those who have grown up speaking English and Spanish, occasionally blending the two languages into the colorful hybrid commonly referred to as Spanglish, this book will stir deeply rooted memories. For non-Hispanics with an interest in Latino culture, it opens a window onto a people whose zest for life, contagious humor, and vigorous spirit contribute a rich flavor to America's vast multicultural society." —VOYA
Find a copy at Amazon | IndieBound | B&N
Description
This groundbreaking bilingual anthology, carefully designed for middle readers, is a mosaic of voices demonstrating the energy, creativity, and diversity of the fastest-growing minority group in America. Wachale! (Spanglish for "watch out!") includes folk tales, stories, and poems in both English and Spanish, and brief autobiographical essays by both well-established and emerging writers representing all shades of Latinos, such as Chicanos in the Southwest, Puerto Ricans in New York, and Cubans in Florida, as well as Dominicans, Guatemalans, and other subgroups. Geared toward ten- to thirteen-year-olds, this is a window to Latino experiences north of the Rio Grande.
Reviews & Accolades
"…Like many of the authors in this lively bilingual anthology of poetry, essays, folktales, and stories, [Aurora Levins Morales] celebrates her history, her diversity, and her rich individual identity…Several pieces dramatize growing up Latino now, in and out of the mainstream. The notes on sources and further reading are part of the fun, and so is the lengthy glossary, but, as editor Stavans says, readers live in a world where language and culture are already mixed, and it would be "silly" to aim for meticulous definitions of every single word…Here he is aiming especially at a middle-school audience, and this collection would make a fine classroom text, great for reading aloud and for stimulating students from everywhere to write about their roots and celebrate their shifting places across borders." —Hazel Rochman, Booklist
"This wonderful anthology captures the essence of the Latino culture in America. Written in part Spanish and part English…These writings depict the struggles, traditions, and stories of this culture and how Latinos have shaped modern-day American society. The book covers a wide range of issues from food to dance to political hardship to discrimination to poverty. It also gives a voice to a large portion of our population, people who have typically been overlooked or misunderstood. This is a great learning tool for gaining insight into this culture as well as a wonderful book for all Latino students searching for their cultural identity."—Sheree Van Vreede, Children's Literature
"This bilingual collection of twenty-nine poems, memoirs, and stories celebrates the experience of growing up Latino in the United States with vivid word pictures that speak from the heart and linger in the mind. In his introduction, Stavans points out that literature about Latino experiences targeted for young readers is scarce, "minimal," as he puts it. Fortunately, the eloquent writers in this book offer teens a marvelous sampling of the great diversity of Latino literary talent in a wide range of topics and voices…For those who have grown up speaking English and Spanish, occasionally blending the two languages into the colorful hybrid commonly referred to as Spanglish, this book will stir deeply rooted memories. For non-Hispanics with an interest in Latino culture, it opens a window onto a people whose zest for life, contagious humor, and vigorous spirit contribute a rich flavor to America's vast multicultural society. Readers of all ages will find much to enjoy in this book, and young adults in particular will find that teenagers the world over share many of the same dreams, desires, anxieties, and concerns." —VOYA
Groups Represented
Hispanic, Latin American
Themes
Traditions, celebration, cultural identity, bilingual, cultural understanding
Setting
Various
Author Research
TBA
Engagement Projects
Leave a comment and let us know how you use this title!