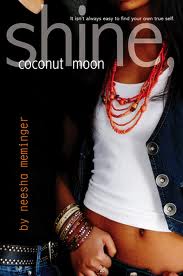 By Delanie Honda (Intern to I'm Your Neighbor)
I recently completed Shine, Coconut Moon, which Kirsten posted about last week (see the post here). Having completed this book, I wanted to follow up and reiterate Kirsten's encouragement to purchase and read this title.
Samar, aka Sam, was raised as a typical American teenager by her mom and has given little thought to her Sikh and Indian background until her Uncle Sandeep reconnects with her family. Sam comes to learn more about her cultural background as her relationship with uncle deepens and so does the reader. Prior to reading this novel, I had little knowledge about Sikhism and by the end I had learned the correct way to pronounce "Sikh" (it's not pronounced "seek" but the ending kh sound should be pronounced like the kh in Mikhail Gorbachev) as well as the basic foundation of the Sikh teachings.
Neesha Meminger is a fantastic writer, not only because she creates wonderful characters like Sam who readers can relate to, but also because she actively writes about topics like diversity in YA literature and writing about characters of color. Her blog, guest posts and interviews have all been extremely interesting to read and are accessable through her website here.
Towards the end of the novel, the Sikh temple Sam's uncle attends is attacks with a makeshift bomb. While fictional, it has an eerily connection to the Wisconsin bombing that occured earlier this month. I found it alarming that the book takes place immediately after September 11th, yet here we are nearly eleven years later and groups like the Sikh are still targets of violent attacks. It's clear to me that books like Shine, Coconut Moon and authors like Neesha Meminger are needed more than ever so that we can educate ourselves and prevent future attacks that are based on ignorance and prejudices.
Find a copy at Amazon | IndieBound | B&N