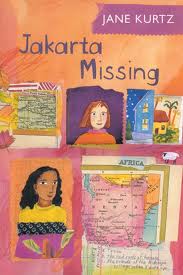 Jakarta Missing
By Jane Kurtz
Published by Greenwillow Books/HarperCollins
"Kurtz convincingly portrays both the bewildering mix of emotions that accompany an expatriate's return "home" and the complications of family life when adults and young adults have different goals and needs…" –Kathleen Isaacs, School Library Journal
"This is an unusual story, one that may prove highly appealing to those younger YAs interested in exotic locales and comparing other cultures with American life." –KLIATT
Find a copy at Amazon | IndieBound | B&N
Description
Dakar is scared. When her family left East Africa to spend a year or two in Cottonwood, North Dakota, Dakar's older sister, Jakarta, was adamant about staying behind. Now Jakarta is all by herself in Kenya…and she's missing.
It's terrible to go through life cringing, sure that at any minute a blow is going to come from somewhere. Dakar doesn't want to worry, but she can't help it. What if Jakarta was in the middle of a Nairobi bombing? What if Mom gets caught by hoodies and forced back into that place when Jakarta isn't even there to help? What if Dad decides to go off to save lives and is seized by some mysterious disease? If Dakar were able to do three really brave things, would that be enough to keep her family together?
Reviews & Accolades
"Ambitious and complex, Kurtz's (Faraway Home) novel…offers a heady blend of universally relevant insight and an appreciation of the exotic…Kurtz captivates when describing Africa, be it the grace of the wilderness or the chaos of "Nairobbery," as Dakar calls it, and she astutely conjures adolescent dialogue and thoughts." –Publisher's Weekly
"When Dakar's parents move from Kenya to Cottonwood, North Dakota, it is a whole new world for this sixth grader. Born to American parents who were living in Africa, Dakar has spent all of her childhood in Kenya, Ethiopia, Egypt and Senegal…Jane Kurtz's novel is insightful, if not engaging." –Children's Literature
"This is an unusual story, one that may prove highly appealing to those younger YAs interested in exotic locales and comparing other cultures with American life…Kurtz tells this story well, with wonderful descriptions of places and people. Jakarta is a riveting character around whom the whole story revolves. She is the one who dares to ask the necessary questions of her family; she is the one who cares most about Dakar." –KLIATT 
"Sixth-grader Dakar struggles to cope with her family's move from Africa, where her father worked to help the needy and gloried in adventure, to North Dakota, where she feels just as much an outsider as she did in Kenya, Egypt, Ethiopia, and boarding school…Kurtz convincingly portrays both the bewildering mix of emotions that accompany an expatriate's return "home" and the complications of family life when adults and young adults have different goals and needs…[some] readers will be caught up in it and will devour the details of exotic foreign and everyday family and school lives." –Kathleen Isaacs, School Library Journal
Groups Represented
Iranian
Japanese
African American
Themes
Sibling relationships, family relationships, immigration
Setting
North Dakota
Author Research
TBA
Engagement Projects
Leave a message and let us know how you use this title!