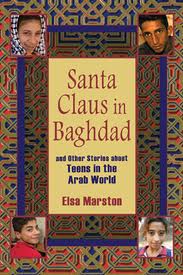 Santa Claus in Baghdad
By Elsa Marston
Published by Indiana University Press
"Though few examples of popular culture depict Arabs in a positive light, Marston's collection is one of the exceptions. Eight Muslim teen narrators are hopeful in the face of poverty, grief, and despair. The author, who worked and traveled extensively to the Middle East, has an uncanny ability to understand the Muslim culture and relay her characters' innermost thoughts to Western audiences" –Chantal Walvoord,  ForeWord 
Find a copy at Amazon | IndieBound | B&N

Description
What is it like to be a young person in the Arab world today? This lively collection of eight short stories about Arab teenagers living in Iraq, Tunisia, Egypt, the West Bank, Lebanon, Syria, Jordan, and a Palestinian refugee camp engagingly depicts young people's experiences growing up in the Middle East. The characters, drawn from urban and rural settings and from different classes as well as a mix of countries, confront situations involving friends, family, teachers, and society at large. Along with some specifically Middle Eastern issues, such as strife in Iraq, the hardships of life in a Palestinian refugee camp, and honor crimes, the young people deal with more familiar concerns such as loyalty to friends, overcoming personal insecurities, dreams of a future career, and coping with divorcing parents. Coming of age in a complicated world, they meet life with courage, determination, and, not least of all, humor. With accompanying notes that provide contextual information, Santa Claus in Baghdad brings a fresh perspective to youth literature about the Arab world.
Reviews & Accolades
"Eight short stories illuminate the experiences of adolescents in modern-day Iraq, Syria, Lebanon, Palestine, Egypt, Tunisia, and Jordan, yet many of their conflicts and concerns are universal in nature…Touches of suspense, romance, and humor keep the pages turning in this fine collection. Themes of faith, loyalty, and coming-of-age are sensitively handled and compellingly depicted. Notes explain each story's historical, political, and social context." —Amy Pickett, School Library Journal
"Author Elsa Marston has written a wonderful book about the Middle East, but not another boring political analysis of why the conflict started or who is to blame. Instead, she focuses in on the children of the Middle East…There are 8 stories in this compelling collection that brings the reader to the harsh realities of a very harsh part of the world. The stories reflect the experiences of Arab and Muslim children from Iraq, Syria, Lebanon and Palestine and from a Palestinian refugee camp in Lebanon…Stories from Egypt, Tunisia and Jordan round out the poignancy of this book with the title coming from one story in Iraq…This book does more than offer compelling stories. It offers real insight into why the conflicts continue, contracts what Americans think they know and how little they really know about the causes of the conflicts from the standpoints of innocence and tragedy and perilous lives of young children clouded only by the desire for peace." —Ray Hanania, Middle East Book Review and Announcements
"Though few examples of popular culture depict Arabs in a positive light, Marston's collection is one of the exceptions. Eight Muslim teen narrators are hopeful in the face of poverty, grief, and despair. The author, who worked and traveled extensively to the Middle East, has an uncanny ability to understand the Muslim culture and relay her characters' innermost thoughts to Western audiences…Her collection translates pertinent yet dispiriting facts about Iraq, Syria, Lebanon, Palestine, Egypt, and Tunisia into short story format…These lively stories, with their open-ended questions, will provoke spirited book discussions for teens and adults…When Americans hear of honor crimes or terrorist bombings, it is easy to forget that those actions do not reflect the views of everyone in the Muslim community. Marston's stories, while withholding nothing of the brutality of some of the more controversial aspects of Muslim life, present characters that are three-dimensional and easy to empathize with. Her stories are filled with characters who are heroic, generous, and eager to improve their world." –Chantal Walvoord,  ForeWord
"The tragedy of peaceful citizens caught up in the savagery of occupation, civil strife, class prejudices, and deadly rituals are brought to life in Marston's collection of stories about Middle Eastern teens…The value of friendship, the easy ingenuity of children, and the deep longing for learning, which are recurring themes in many of these stories, are strongly evidenced…In these and other stories, Marston, who has lived and visited the countries of which she writes, offers a realistic portrait of the Middle East that mixes possiblity and bleakness in equal measure." –Beth E. Andersen, VOYA
"Reading this collection will be invaluable for Arab American YAs and for all in our culture eager to understand the Arab culture, the Middle East conflicts, and current events." –Claire Rosser, KILATT
"While the cultures of these young people may be very different from those of most young people in the United States, their dreams and the problems they must deal with as they come of age will be familiar to American teens. This is a beautifully written book that helps dispel some of the stereotypes held about the Arab world." –Lesley Moore Vossen, Children's Literature
"Marston's timely and engaging collection of eight short stories offers provocative snapshots of Arab teenagers growing up in environments riddled with religious, historical and cultural dilemmas. These teens confront common coming-of-age issues as well as their unique indigenous challenges." –Kirkus Reviews
Groups Represented
Iraqi
Syrian
Lebanese
Egyptian
Tunisian
Jordanian
Palestinian
Themes
Refugee life, sacrifice, cultural traditions, family relationships, building futures, religious differences, coming of age
Setting
Baghdad, Iraq
Syria
Lebanon
Egypt
Tunisia
Palestine
Jordan
Author Research
Although my own background is New England Yankee, I've always been fascinated by other peoples and places. After my MA in international affairs, I studied at the American University of Beirut, where I met my future husband, a Lebanese. His career as a Middle East expert led to many sojourns in the Arab world, which enhanced my own specializations and my efforts as a writer to counter negative stereotypes about Arab/Muslim peoples.
In the Santa Claus in Baghdad stories, I purposely chose not to write about subjects often associated with the Middle East—war, oppression, violence—but to focus mostly on life-situations that young Americans could identify with: friendship, parents' divorce, proving oneself, and so forth. Along with my own experiences and imagination, most of the stories are also based on first-hand observations: the young servant girl in a middle-class Lebanese home, the artist in Tunisia (myself!) pestered by young boys, life in a Palestinian refugee camp.
For others I needed research and personal contacts. Iraqi friends helped with the Santa Claus story—plus a news item about a plane-load of supplies for children in Baghdad, dubbed "Santa Claus" and sent from Iceland! My earlier research for Women in the Middle East: Tradition and Change inspired the story about an "honor crime."
This collection of stories was one of my most enjoyable projects and has been well received. I should have anticipated one drawback, however: the "Honor" story colored too many of the reviews. Still, I feel that as an effort to present fairly the strengths and weaknesses of a society as a young person might experience them, my stories are as true as I could make them.
Engagement Projects
GO to the Santa Claus In Baghdad film site to view a trailer, go behind the scenes and learn more about the film
Leave a comment and let us know how you use this title!