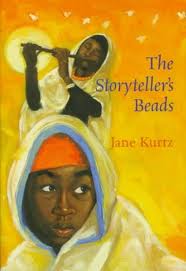 The Storyteller's Beads
By Jane Kurtz
Published by Harcourt Children's Books
"Although firmly grounded in the realities of Ethiopian life, which Kurtz (who grew up in Ethiopia) helps the reader see, hear, feel, and smell, the story is also universal, and will provoke reflection on prejudice, tolerance, and identity." –Children's Literature
"This ultimately heartening novel is a solid addition to the growing body of middle-grade books for a multicultural world." –Kathleen Isaacs, School Library Journal
Find a copy at Amazon | IndieBound | B&N
Description
During the political strife and famine of the 1980's, two Ethiopian girls, one Christian and the other Jewish and blind, struggle to overcome many difficulties, including their prejudices about each other, as they make the dangerous journey out of Ethiopia.
Reviews & Accolades
"Set in the mid-1980s, a time when Ethiopia is hard-hit by drought and political strife, Kurtz's (Trouble) eye-opening novel charts the converging paths of two young natives fleeing from their country…Through the girls' alternating points of view, Kurtz conveys how the fellow travelers' mutual mistrust of one another gradually grows into reliance upon each other for aid and consolation…Besides presenting an historically accurate account of mass exodus from Ethiopia (additional information appears in an afterword), the story pays tribute to survivors who find the strength and courage to help others reach freedom."  –Publisher's Weekly
"This exquisitely crafted, sparely told tale of courage and friendship is an outstanding first novel…The texture of the story is enhanced by recurring imagery of dust, water, darkness, the sound of Rahel's flute, and the textures of cotton "gahbis" (cloaks), baskets, clay pots, amber beads, and remembered stories, especially the Biblical tale of Ruth and Naomi. An author's note provides historical and cultural context on the many groups of people that make up modern Ethiopia, while a glossary provides definitions and a pronunciation key for foreign words. Although firmly grounded in the realities of Ethiopian life, which Kurtz (who grew up in Ethiopia) helps the reader see, hear, feel, and smell, the story is also universal, and will provoke reflection on prejudice, tolerance, and identity." –Children's Literature
"When both girls must leave Ethiopia, Sahay for escape and Rahel to seek Jerusalem, they lose everything and everyone but find each other on the journey. The two learn to overcome the cultural prejudices taught to them from birth by finding the things they have in common…This is a moving story that makes the Ethiopian tragedy come alive through the adventures of these two courageous girls." –VOYA
"This harrowing story set in Ethiopia during the 1980s features an unexpected friendship between two girls of different religious backgrounds…This moving novel about friendship also illustrates the power of story. Ethiopian words that are clear in context and also defined in the glossary help particularize the setting. An afterword explains something of the complex relationship between the girls' two different cultures. This ultimately heartening novel is a solid addition to the growing body of middle-grade books for a multicultural world." –Kathleen Isaacs, School Library Journal
"The story is beautifully told in words and phrases that enhance the exotic locale and situation of the two endangered girls, who are richly portrayed. Kurtz keeps the focus personal but never allows larger events to dissipate in this engrossing tale." –Kirkus Reviews
Groups Represented
Ethiopian
Jewish
Themes
Religious differences, religious persecution, multicultural friendships, survival
Setting
Ethiopia
Sudan
Author Research
TBA
Engagement Projects
Leave a comment and let us know how you use this title!