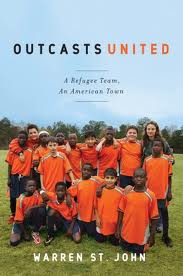 Outcasts United: The Story of a Refugee Soccer Team that Changed a Town
By Warren St. John
Published by Delacorte Books for Young Readers
"…An uplifting underdog story that will appeal to readers interested in the immigrant experience and the surprising role sports can play in people's lives." –Kirkus Reviews
"Not merely about soccer, St. John's book teaches readers about the social and economic difficulties of adapting to a new culture and the challenges facing a town with a new and disparate population" —School Library Journal
Find a copy at Amazon | IndieBound | B&N
Description
This young people's version of the adult bestseller, Outcasts United: An American Town, a Refugee Team, and One Woman's Quest to Make a Difference, is a complex and inspirational story about the Fugees, a youth soccer team made up of diverse refugees from around the world, and their formidable female coach, Luma Mufleh. Clarkston, Georgia, was a typical southern town until it became a refugee resettlement center. The author explores how the community changed with the influx of refugees and how the dedication of Lumah Mufleh and the entire Fugees soccer team inspired an entire community.
Reviews & Accolades
"An inspiring account of a young Jordanian immigrant who created Fugees, a soccer program for refugees from war-torn nations…insightful about immigration and the challenges of assimilation…An uplifting underdog story that will appeal to readers interested in the immigrant experience and the surprising role sports can play in people's lives." –Kirkus Reviews
"As we learn from the harrowing true stories in OUTCASTS UNITED, there are still plenty of people coming to America for the same reasons that so many of our ancestors landed here during past generations.  And, as we come to see, Luma Mufleh is a bona fide American hero for the work she has done in Clarkston to change these young lives for the better." –Richie Partington, Richie's Picks
"Not merely about soccer, St. John's book teaches readers about the social and economic difficulties of adapting to a new culture and the challenges facing a town with a new and disparate population…This wonderful, poignant book is highly recommended…" —School Library Journal
"Outcasts United succeeds so emphatically because, just as the Fugees are so much more than a football team, this is much more than a sports book. St John…has produced a dense and unjudgmental portrait of America in the 21st century (and a vital primer to African and colonial history in the last one)."— The Observer (UK)
Groups Represented
Jordanian
Afghani
Muslim
Iraqi
Sudanese
Themes
Immigration, trauma, multicultural relationships, inspiring mentors, building futures, community, sports for underprivledged youth
Setting
Suburban Atlanta
Author Research
I [first heard about the Fugees when I] was in Atlanta giving a talk about my first book at a conference of educators, and a reader of the book invited me to join him and his wife for dinner. He worked in refugee resettlement, so over a hamburger, I suppose my reporter's instinct kicked in and I started grilling him, asking, 'Refugees from where? How did they get here? Where do they live and how do they build new lives here? Who helps them?' That sort of thing. He very patiently answered my questions, and then casually mentioned that there was a soccer team of young refugees on the eastern side of town, and he encouraged me to check them out. So I called the coach, and went to a game. It was a surprisingly powerful experience…I came away from that afternoon truly moved, and I knew that day that I'd found my next book.
In the meantime, I learned more about Clarkston, and I realized that so much of the tension over refugee resettlement was just coming to a head. There had just been a case of police brutality against a Nigerian immigrant. That summer the mayor had banned soccer from the town park. So it wasn't just a story a team – there was this momentous kind of reckoning going on in the community as well. And that's what made it clear to me that I needed to get there quickly and to start reporting.
There is very understandable reticence among many of refugee families I met. Their experiences make it difficult for them to trust strangers, particularly anyone seen as part of an apparatus — the government, the army, the media, even the relief bureacracy. Refugees have often faced a great deal of betrayal. That said, I had an introduction in most cases from Luma, someone the families knew and trusted, and that was invaluable. And among the refugees, there is also a natural curiosity about locals – they want to meet Americans and get to know them. They live in apartment complexes full of other refugees, many from other countries – people whose language they may not speak. So refugees in Clarkston don't actually have many opportunities to just sit down and talk to an American. And when they do – they have lots of questions. They want things explained.
READ more about Warren's experience with the Fugee team at his website
Engagement Projects
VISIT the Outcasts United website for resources and more information about the book
VISIT the Fugee Family website for more about the organization
Leave a comment and let us know how you use this title!