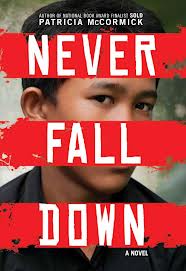 Never Fall Down
By Patricia McCormick
Published by HarperCollins Publishers/Balzer + Blay
McCormick has done a remarkable job of creating an authentic first-person voice for Arn and using it to lay bare his almost unimaginable experiences of horror. The resulting book is powerfully, hauntingly unforgettable. —Michael Cart, Booklist
Find a copy at Amazon | IndieBound | B&N
Description
When soldiers arrive at his hometown in Cambodia, Arn is just a kid, dancing to rock 'n' roll, hustling for spare change, and selling ice cream with his brother. But after the soldiers march the entire population into the countryside, his life is changed forever. Arn is separated from his family and assigned to a labor camp: working in the rice paddies under a blazing sun, he sees the other children, weak from hunger, malaria, or sheer exhaustion, dying before his eyes. He sees prisoners marched to a nearby mango grove, never to return. And he learns to be invisible to the sadistic Khmer Rouge, who can give or take away life on a whim.
One day, the soldiers ask if any of the kids can play an instrument. Arn's never played a note in his life, but he volunteers. In order to survive, he must quickly master the strange revolutionary songs the soldiers demand—and steal food to keep the other kids alive. This decision will save his life, but it will pull him into the very center of what we know today as the Killing Fields. And just as the country is about to be liberated from the Khmer Rouge, Arn is handed a gun and forced to become a soldier. He lives by the simple credo: Over and over I tell myself one thing: never fall down.
Based on the true story of Arn Chorn-Pond, this is an achingly raw and powerful novel about a child of war who becomes a man of peace, from National Book Award finalist Patricia McCormick.
Reviews & Accolades
National Book Award Finalist, 2012
"Arn…has plenty of struggles after the regime is conquered as he deals with his horrific memories, the guilt of many of his actions, and adjusting to a new life in America. Despite being teased and having difficulty learning English he again rises above his circumstances to become an advocate for his homeland and his people…McCormick employs a fragmented vernacular that captures the childlike perspective and keeps it from becoming too heavy. Though there are still plenty of instances of violence, rape, and murder the worst takes place off-page or is handled deftly conveying the horrors without dwelling on them. Well-written and heart-breaking, this is an important and enlightening story for any teen collection." –Children's Literature
"Unlike other memoirs about Cambodian survivors, Never Fall Down is told in fictional form, based on the recollections of Arn, who recently told me in an interview in Phnom Penh that he entrusted the writer to shape his narrative and fill in the gaps. In an author's note, McCormick says, "I added to his recollections with my own research—and my own imagination—to fill in the missing pieces." What she produced is a journey into the horror of those years, told with the ingenuous directness of youth and employing her subject's rough-and-ready patois…As the story unfolds from atrocity to anguish it gains momentum until, in its final chapters, it becomes a gripping account of the inner turmoil of a child soldier." —The New York Times Book Review
"Arn's narration balances a palpable and constant sense of fear, starvation, and humiliation with his will to survive…While never shying from the ugliness and brutality of this genocide, McCormick crafts a powerful tribute to the human spirit." —Publishers Weekly
"Following the pattern of excellence McCormick began with her novel SOLD, she has created another amazing story through skilled and patient research…Gathering bits of stories from Arn and several other sources, this carefully woven work of fiction could not be more real…Told in brutal honesty this book honors Arn and those who managed to survive Cambodia's Communist leader, Pol Pot, and his war to take over this small country."  –VOYA
"This is not an easy book to read, as it unveils the truth about one of the most hideous examples of inhumanity in the twentieth or any other century. McCormick has done a remarkable job of creating an authentic first-person voice for Arn and using it to lay bare his almost unimaginable experiences of horror. The resulting book is powerfully, hauntingly unforgettable." —Michael Cart, Booklist
"McCormick's novel is one that needs to be read." –The Horn Book
Groups Represented
Cambodian
Themes
Survival, immigration, trauma, child soldiers, historical
Setting
Battambang, Cambodia
Thailand
United States
Author Research
I met Arn through a neighbor in my apartment building in New York. I was a little wary at first because what I knew about Cambodia and the Khmer Rouge led me expect to meet a person so traumatized that he might not be able to tell his story in way others could understand. Arn did have trouble telling his story in some ways – he would sometimes dart away from difficult topics or be overcome with sadness. But when he spoke about the way music saved his life, about his work to preserve Cambodia's traditional music, or about his belief in the power of forgiveness, he was radiant. He had a fire to be heard and an irresistible insistence that you listen. What he didn't have was a way to spread his message – beyond his own efforts to speak out. What compelled me to write the book – beyond Arn's own charisma – was a feeling that the world has turned its attention away from Cambodia. But genocide persists – and Never Fall Down shows how its architects and the tools they use remain the same.
Arn and I spent hours in my home doing long, emotionally draining interviews. Then I traveled to Cambodia with him, retracing the steps of his childhood – from the town square where he and his little brother hustled for change, to the Killing Fields temple where he was forced to witness the torture and death of hundreds of people, and on to a remote corner of the country where Khmer Rouge hold-outs live to this day. Arn was able to round up a few of his fellow survivors from the death camp and I hired an independent translator to corroborate what Arn had told me earlier…Together we all traveled to the temple where they pointed – as if they were seeing ghosts – to the places where the killings took place. They reenacted -with some hesitation at first – the propaganda songs and dances they had to perform to stay alive. And we all visited the home of the former Khmer Rouge soldier who was their warden and sometimes their protector. We traveled to a part of the country still controlled by the Khmer Rouge to interview Sombo.
It was a privilege to accompany them on the trip and to bear witness to their experiences. It was an honor that they shared so much with me – and it was moving to see them process, and shrug off, some of the memories that held them hostage all these years.
READ more about Patricia McCormick's process of writing Never Fall Down
Engagement Projects
Leave a comment and let us know how you use this title!