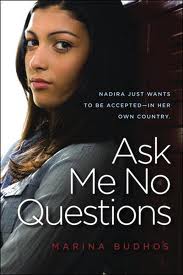 Ask Me No Questions
By Marina Budhos
Published by Atheneum Books/Simon Schuster
"The teen voice is wonderfully immediate, revealing Nadira's mixed-up feelings as well as the diversity in her family and in the Muslim community…Readers will feel the heartbreak, prejudice, kindness, and fear." –Booklist
"A perceptive peek into the lives of foreigners on the fringe." –Kirkus Books
Find a copy at Amazon | IndieBound | B&N
Description
"You forget. You forget you don't really exist here, that this isn't your home."
Since emigrating from Bangladesh, fourteen-year-old Nadira and her family have been living in New York City on expired visas, hoping to realize their dream of becoming legal U.S. citizens. But after 9/11, everything changes. Suddenly being Muslim means you are dangerous — a suspected terrorist.
When Nadira's father is arrested and detained at the U.S.-Canadian border, Nadira and her older sister, Aisha, are told to carry on as if everything is the same. The teachers at Flushing High don't ask any questions, but Aisha falls apart. Nothing matters to her anymore — not even college.
It's up to Nadira to be the strong one and bring her family back together again.
Reviews & Accolades
"Marina Budhos's novel paints a compelling portrait of what it was like to be a Muslim teen living in the United States following 9/11. The characters are believable and well-rounded, especially Nadira, who grows from a naive and whiny teenager into a mature, level-headed young woman…an important addition to the study of the immigrant experience." –School Library Journal
"What is it like to be an illegal alien in New York now? In a moving first-person, present-tense narrative, Nadira, 14, relates how her family left Bangladesh, came to the U. S. on a tourist visa, and stayed long after the visa expired…The teen voice is wonderfully immediate, revealing Nadira's mixed-up feelings as well as the diversity in her family and in the Muslim community…Readers will feel the heartbreak, prejudice, kindness, and fear." –Booklist
"Inspiring and timely, this novel explores one of the most difficult issues facing the United States today in a compelling and highly readable way." –Children's Literature
"Budhos, who has written before about immigrant teenagers, here creates fully realized characters to help us understand the complexities of the immigration system…This is a powerful story, especially for those YAs who know something themselves about the immigration situation. Budhos doesn't make heroes of the illegal immigrants, but she illuminates the reasons why families stay here, and she focuses on the children who have grown up in America but who are threatened with deportation because of the mistakes of their parents." –KLIATT
"Budhos's descriptive writing style helps the story seem more realistic. Nadira's conflicting emotions are portrayed in such a way that even though teens might not identify with her situation, they can easily relate to her feelings. The topics addressed in this book are very relevant in today's society, and teens will quickly be able to make real world connections." –VOYA
"A perceptive peek into the lives of foreigners on the fringe." –Kirkus Books
Groups Represented
Bangladeshi
Bangladeshi-American
Themes
Family relationships, sibling relationships, immigration, illegal aliens
Setting
New York City
Author Research
TBA
Engagement Projects
Leave a comment and let us know how you use this title!