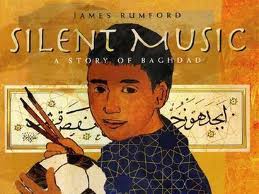 Silent Music: a Story of Baghdad
By James Rumford
Published by Roaring Brook Press
"Told plainly and without bathos, this is one story of how people use art to find understanding." –The Horn Book Magazine
Find a copy at Amazon | IndieBound | B&N
Description
When bombs begin to fall, Ali drowns out the sound of war with a pen.
Like other children living in Baghdad, Ali loves soccer, music and dancing, but most of all, he loves the ancient art of calligraphy. When bombs begin to fall on his city, Ali turns to his pen, writing sweeping and gliding words to the silent music that drowns out the war all around him. Gorgeously illustrated with collage, pencil and charcoal drawings and, of course, exquisite calligraphy, this timely and yet universal story celebrates art and history but also offers young children a way to understand all they see and hear on the news.
Reviews & Accolades
"Rumford…fills his multimedia collages with large, looping script that spells out the words and phrases that Ali writes. Many children will have questions about Arabic writing and where the individual letters stop and start, but they'll connect with Ali's first-person voice, which echoes the calligraphy's graceful rhythm and tells a simple, powerful story about a child's everyday survival and hope in wartime Baghdad." –Booklist
"Art sings on the pages of this visual celebration of Arabic calligraphy as Rumford's collages of floral and geometric designs and flowing lines deftly echo Arabic language and patterns…Spreads incorporating stamps, money and postcards reinforce the Baghdad setting and complement representational scenes, such as an intricate collage of Ali huddling under a blanket next to his cat, writing. Arabic words, translated in places, sometimes embed in the pages as part of the illustrations, even patterning Ali's mother's dress…In an eloquent ending, he discovers that while the word "war" flows easily, the pen "stubbornly resists me when I make the difficult waves and slanted staff of salam—peace." –Publisher's Weekly
"A boy's ingenuous voice introduces American readers to the beauty and discipline of Arabic calligraphy in this mood piece set in Baghdad. Ali directly addresses readers, explaining how much he loves playing soccer and listening to loud music, and how he loves calligraphy even more: "my pen stopping and starting, gliding and sweeping, leaping dancing to the silent music in my head."… Rumford's sense of design is one of the keenest in the field; he incorporates patterned papers, collage elements and, over and over, the Arabic words themselves in his dusty, desert-colored spreads. The quiet text doesn't dwell on politics or conflict, simply on one boy's desire to find peace in his own life and how he uses calligraphy as a vehicle…a lovely offering that provides a glimpse into a culture we need to understand." –Kirkus Reviews
"In the first-person text, Ali is a boy any child can understand, and when he writes his sister's name, Yasmin, and describes it as easy and beautiful, we know he is expressing brotherly affection. Later, when he has no trouble writing harb, the word for war, but struggles to draw the word for peace, salam, readers will feel Ali's pain for his country. Rumford's mixed-media illustrations echo the collage work of Ezra Jack Keats and Patricia Polacco while still being all about the calligraphy. Told plainly and without bathos, this is one story of how people use art to find understanding." –The Horn Book Magazine
"Jewel-toned illustrations done in pencil and charcoal and then computer enhanced accompany the lyrical text. Ali and his family are depicted with warmth and personality, and their interactions add intimacy to the story. Elaborately detailed designs appear throughout–intricate tile arrangements, delicate floral motifs, colorfully patterned clothing, even a backdrop that incorporates subtle images of warfare (army vehicles, helicopters, etc). Graceful lines of calligraphy flow across and are incorporated into the artwork. In addition to engendering appreciation for this art form, Rumford's book sheds light on life in war-torn Iraq and builds empathy for those caught in the crossfire." –School Library Journal
"Clothing and backgrounds are rendered in dense geometric patterns of Arabic decorative art, while text boxes, snippets of Ali's writing, and an assortments of jottings in various formats are layered into mixed-media collages in radiant, strongly contrasting hues. The view of one boy's experience in a war-torn country is compelling, especially in light of the historic precedent…an inviting peek for Western children into another culture." –Bulletin of the Center for  Children's Books
Groups Represented
Iraqi
Themes
Art therapy
Setting
Iraq
Author Research
From Mr. Rumford's acceptance speech for the Jane Addams' award in 2009:
In 2003, amidst all the talk of war, I wanted to write about Iraq. I wanted to talk about something positive about its culture. Gradually, an idea began to take shape: I would write about Yaqut Musta'simi, a famous calligrapher who lived in Baghdad and who survived the devastating Mongol invasion of 1258. I did some research and took notes, but no story came. I watched the nightly news with its angry images and clips from Al-Jazira filled with the dots and sweeping hooks of Arabic writing. Still no story.
Shortly after the first bombs fell on Baghdad, I went to hear Caldecott winner Allen Say talk about his work. He spoke about his books dealing with the internment of Japanese Americans during World War II and how it took sixty years before the public was willing to read about such a controversial subject.
Allen Say's words greatly affected me. That night, as I got ready for bed, a story came into my head not about Yaqut but about an Iraqi boy living in present-day Baghdad.
"I don't want that story," I said to myself. "It will never get published—or, if it does, it will take sixty years before anyone is ready to read it."
The next morning, the story was still there. Unable to resist the words any longer, I wrote them down. Later that morning, I made a dummy. Then I waited.
When the time was right, I told myself, the book would be published—and it was.
Engagement Projects
Leave a comment and let us know how you use this title!