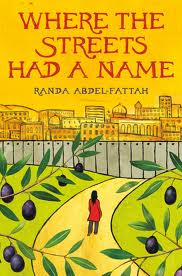 Where the Streets Had a Name
By Randa Abdel-Fattah
Published by Scholastic Press
"As she did in Does My Head Look Big in This? (2007) and Ten Things I Hate About Me (2009), Abdel-Fattah introduces a bright, articulate Muslim heroine coping with contemporary life…A refreshing and hopeful teen perspective on the Israeli-Palestinian dilemma." –Kirkus Reviews
Find a copy at Amazon | IndieBound | B&N

Description
Critically acclaimed author Randa Abdel-Fattah's middle-grade debut about the journey — and risks — a Palestinian girl will take to save her family.
Thirteen year old Hayaat is on a mission. She believes a handful of soil from her grandmother's ancestral home in Jerusalem will save her beloved Sitti Zeynab's life. The only problem is that Hayaat and her family live behind the impenetrable wall that divides the West Bank, and they're on the wrong side of check points, curfews, and the travel permit system. Plus, Hayaat's best friend Samy always manages to attract trouble. But luck is on the pair's side as they undertake the journey to Jerusalem from the Palestinian Territories when Hayaat and Samy have a curfew-free day to travel.
Reviews & Accolades
"As she did in Does My Head Look Big in This? (2007) and Ten Things I Hate About Me (2009), Abdel-Fattah introduces a bright, articulate Muslim heroine coping with contemporary life, this time during the West Bank Israeli-Palestinian conflict in 2004…Hayaat chronicles this life-altering journey in the first-person, present tense, giving readers an intimate glimpse into the life of her warm, eccentric Muslim family, who survive despite the volatile political environment. A refreshing and hopeful teen perspective on the Israeli-Palestinian dilemma." –Kirkus Reviews
"The sights, sounds, and smells of Bethlehem come to life as [Hayaat and Samy] race each other through the streets…The long journey through numerous checkpoints is alternatingly tedious and frightening, vividly depicting the trials of occupation and the extreme fortitude of the people living under it. The joyful occasion of Jihan's wedding at novel's end is a clear sign of hope in the midst of hardship. Abdel-Fattah's message isn't subtle but loud and heartfelt as delivered by thirteen-year-old Hayaat: "In the end we are all of us only human beings who laugh the same." Who can fight that?"–The Horn Book
"This suspenseful novel reveals the plight of Palestinians living in occupied territory…In her first middle-grade novel, Abdel-Fattah crafts a classic quest and adeptly sketches the strong friendship between Hayaat and her soccer-obsessed friend Samy, who accompanies her through checkpoints, and the memorable cast they encounter along the way, which includes a pair of Israeli peace activists. The rest of Hayaat's family anchor the narrative and prove equally compelling, including Hayaat's older sister, who is preparing for her wedding; her tenacious mother; and her depressed father. Clues to the disfiguring accident that scarred Hayaat and caused the death of her best friend build, illuminating a source of fear and sorrow. Still, Hayaat manages to hold onto hope: "Maybe it's not about survival. Maybe we have to learn how to live with purpose." The heroine's courage, warmth, and humor despite mounting challenges will win over readers." –Publisher's Weekly
Groups Represented
Palestinian, Muslim, Christian, Israeli
Themes
Multicultural friendship, family relationship, survival
Setting
West Bank
Author Research
School playgrounds are no longer mono-cultural. They're melting pots of cultures, races and faiths. So how do teenagers from minority communities negotiate their existence and identity when they're burdened by stereotypes and prejudices? And how do teenagers who don't conform to popular culture's so-called role models of beauty and lifestyle find the strength to be true to themselves? These are the kinds of questions I try to explore in Does My Head Look Big In This? and Ten Things I Hate About Me. Whether it's Amal, who has decided to wear the hijab, or Timothy, who refuses to conform just to fit in with the popular crowd, or Simone, who wants to be thin, or Jamilah, who lives a double life to avoid people knowing about her background, I'm interested in the pressures teenagers have to cope with in trying to find their identity.
"Nappy-head". "Towel-Head." "Terrorist". For Muslim teenage girls who wear the hijab, and are therefore immediately identifiable as Muslims, the main struggle is to live against the perception that you are oppressed or part of a threatening 'other'. It's exhausting to always be on the defensive, resisting a stereotype of victimhood, especially when you're a teenager trying to figure out who you are! I wrote Does My Head Look Big In This? and Ten Things I Hate About Me because I wanted to explore characters who are really struggling to figure out who they are and fit in. Some of them feel like they're living in a zoo: locked in the cage of other people's stereotypes, prejudices and judgments, on parade to be judged! Others want to be accepted for who they are, but can't even accept themselves. Ultimately, my characters are learning that if they want the respect of others, they have to have self-respect first.
Engagement Projects
Leave a comment and let us know how you use this title!