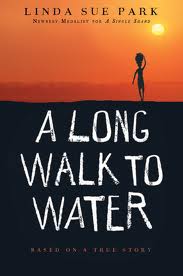 A Long Walk to Water
By Linda Sue Park
Published by Houghton Mifflin Harcourt
"Park employs well-chosen details and a highly atmospheric setting to underscore both children's struggles to survive" –Publisher's Weekly
"Brilliant. . . . A touching narrative about strife and survival on a scale most American readers will never see."—BookPage
Find a copy at Amazon | IndieBound | B&N
Description
Nya goes to the pond to fetch water for her family. She walks eight hours every day.
Salva walks away from his war-torn village. He is a "lost boy" refugee, destined to cover Africa on foot, searching for his family and safety.
Two young people . . . two stories.
One country: Sudan.
This mesmerizing dual narrative follows two threads—one unfolding in 2008 and one in 1985—with one hopeful message: that even in a troubled country, determined survivors may find the future they are hoping for.
Reviews & Accolades
"Newbery Medalist Park's spare, hard-hitting novel delivers a memorable portrait of two children in Sudan…Park employs well-chosen details and a highly atmospheric setting to underscore both children's struggles to survive…The eventual connection of Salva and Nya's stories offers the promise of redemption and healing." –Publisher's Weekly
"…young readers will be stunned by the triumphant climax of the former refugee who makes a difference with the necessities that we all take for granted." –Booklist
"Brilliant. . . . A touching narrative about strife and survival on a scale most American readers will never see."—BookPage
"[A] fast, page-turning read. . . . A great book for high school students and an important novel for young adults who enjoy learning about other world cultures."—VOYA
Groups Represented
Sudanese
Themes
Survival, refugee life, immigration, building futures
Setting
Sudan
Author Research
TBA
Engagement Projects
Leave a comment and let us know how you use this title!