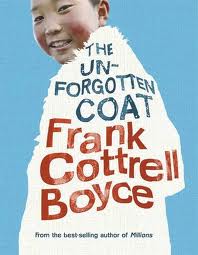 The Unforgotten Coat
By Frank Cottrell Boyce
Photography by Carl Hunter and Clare Heney
Published by Candlewick Press
"…a tight, powerful story—brimming with humor, mystery, and pathos" –Publisher's Weekly

"Funny, sad, haunting and original…A tricky, magical delight." –Kirkus Reviews
Find a copy at Amazon | IndieBound | B&N
Description
When two Mongolian brothers inexplicably appear one morning in Julie's sixth grade class, no one, least of all Julie, knows what to do with them. But when Chingis, the older of the two brothers, proclaims Julie as their "Good Guide" – a nomadic tradition of welcoming strangers to a new land – Julie must somehow navigate them through soccer, school uniforms, and British slang, all while trying to win Shocky's attention and perhaps also an invitation to her friend Mimi's house. At times funny, this moving and simply told novella tugs at the heart-a unique story of immigration both fierce in its telling and magical in its characters.
Reviews & Accolades
"Boyce follows Cosmic with a tight, powerful story—brimming with humor, mystery, and pathos—about illegal immigration and the price it exacts on children…In an author's note Boyce explains his inspiration, making an already moving story even more so." –Publisher's Weekly
"Although the novel deals with the serious subject of illegal immigration, Boyce's dialogue is warm and humorous, keeping the book engaging. Chingis's mysterious Polaroids, displayed throughout the book, make for an intriguing format. Julie narrates the story as an adult, looking back, but an unusual ending gives it a contemporary, touching twist." –School Library Journal
"Funny, sad, haunting and original, Cottrell Boyce's story leaves important elements unexpressed. As with lace, these holes are part of the design, echoed in the unadorned photos: a path through a dark forest; wagon tracks across a field that meet the lowering sky; shadows on a yurt wall. To complete the narrative, readers must actively participate. They'll find myriad paths to follow—immigration, demons, social networking, the mystery of cultural difference and the nature of enchantment. A tricky, magical delight." –Kirkus Reviews
Groups Represented
Mongolian
Themes
Immigration, illegal aliens, multicultural friendship
Setting
Liverpool, England
Author Research
TBA
Engagement Projects
Leave a comment and let us know how you use this title!