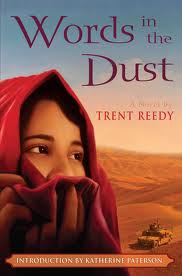 Words in the Dust
By Trent Reedy
Published by Arthur A. Levine Books
"…[a] deeply moving view of a young girl caught between opportunity and tradition in contemporary Afghanistan." –Booklist
"An inside look at an ordinary Afghanistan family trying to survive in extraordinary times, it is both heart-wrenching and timely." –Kirkus Reviews
Find a copy at Amazon | IndieBound | B&N
Description
Zulaikha hopes. She hopes for peace, now that the Taliban have been driven from Afghanistan; a good relationship with her hard stepmother; and one day even to go to school, or to have her cleft palate fixed. Zulaikha knows all will be provided for her–"Inshallah," God willing.
Then she meets Meena, who offers to teach her the Afghan poetry she taught her late mother. And the Americans come to her village, promising not just new opportunities and dangers, but surgery to fix her face. These changes could mean a whole new life for Zulaikha–but can she dare to hope they'll come true?
Reviews & Accolades
"Infused with poetry, and wrought with hardship, the story gives a bleak, but ultimately hopeful, portrayal of girlhood in Afghanistan. It is full of hard truths, painful lessons, beautiful human interaction, and the promise of possibility." –School Library Journal
"Reedy based his debut on real people and places he encountered while serving with the National Guard in Afghanistan, and the extensive detail about Afghani customs gives the story the feel of a docu-novel while also creating a vivid sense of place and memorable characters. Reedy skillfully avoids tidy resolutions: the grim fate of Zulaikha's sister, who is married to a much older man, offers a heartbreaking counterpoint to Zulaikha's exciting new possibilities…[a] deeply moving view of a young girl caught between opportunity and tradition in contemporary Afghanistan." –Booklist
"In his first novel, Reedy, a former soldier in Afghanistan, examines the restrictive experiences of contemporary Afghan girls through sympathetic 13-year-old narrator Zulaikha…the evolution of key relationships presents a nuanced look at family dynamics and Afghan culture. Though unsentimental and fraught with tragedy, Reedy's narrative offers hope and will go a long way toward helping readers understand the people behind the headlines." –Publisher's Weekly
"Reedy creates a rich, multi-layered tale of current day Afghanistan…The main characters are well developed and the minor characters add to the richness of the story. The beautiful, ancient poetry of the region is contrasted with the denial of education to half the region's population. Reedy has done an excellent job of weaving in everyday life, words in Farsi, and the plight of women and girls. This is a story that will stay with the reader long after the book is finished. It is simultaneously heart-rending and uplifting." –Children's Literature
"Drawing from personal experiences in Afghanistan, Reedy creates a multidimensional heroine who introspectively reflects on how to "be patient enough to forget all the ugliness and focus on . . . good things" in an oppressive culture where women are undervalued. An inside look at an ordinary Afghanistan family trying to survive in extraordinary times, it is both heart-wrenching and timely." –Kirkus Reviews
Groups Represented
Afghan
Themes
Building futures, education,cultural traditions, family relationships
Setting
Afghanistan
Author Research
As with so much else of my experience in Afghanistan, the girl who inspired the character Zulaikha came into my life by accident. My unit was on a mission to make contact with the elders of a village north of Farah. Our commanders wanted to ask the elders if there was any way the Americans could help improve the village. On this mission, one of the soldiers saw a girl with a cleft lip. That is, she was born with the two segments of her upper lip not joined in the center. In addition, her nose was disfigured, and her upper set of teeth were badly crooked, some sticking out almost straight forward…A short time later our chief medical officer, a woman not unlike Captain Mindy in this novel, led a second mission to the village to locate the girl and see if we could arrange corrective surgery for her. It wasn't a mission that came down from high command, but one my fellow soldiers and I felt strongly about. After all, if we couldn't at least try to help this girl, what good were we?…To me, she represented all Afghan girls who are struggling to make better lives for themselves and for their families, and even though she lacked the ability and resources to tell the world her story, that does not mean that it does not deserve to be told. She looked back at me as she rode away and although she could not hear me or understand my words, I promised her I would tell her story. The result is Words in the Dust, a fictional account inspired by the incredible people I was blessed to meet in Afghanistan.
READ more about Trent Reedy's inspiration on his website.
Engagement Projects
Leave a comment and let us know how you use this title!