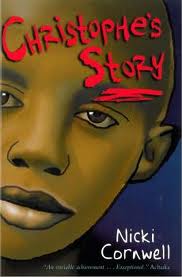 Christophe's Story
By Nicki Cornwell
Illustrated by Karin Littlewood
Published by Frances Lincoln Children's Books
"…Cornwell is able to convey the horror without the distance of an outside voice. It's a powerful indictment of the savagery of war and its effect on those caught in its path." –Kirkus Reviews
Find a copy at Amazon | IndieBound | B&N
Description
This is the story of a young Rwandan refugee now living in the U.K. Christophe is having trouble getting used to his new school, new language and new life. Life has been very lonely for him. Most of all he misses his grandfather who they had to leave behind. His teacher persuades Christophe to share his story with his classmates, so he tells them of the terrifying day the soldiers came to his house and killed his baby brother. The spoken story fills the air and his classmates are spellbound. But when his teacher asks him to write it down and read it out in assembly, Christophe is horrified. You lose the fire from a story once you write it down! But with the help of his new friends, his family, and the memory of his beloved grandfather, Christophe finds a way to break through the barriers and to share his story with everyone.
Reviews & Accolades
"…Cornwell is able to convey the horror without the distance of an outside voice. It's a powerful indictment of the savagery of war and its effect on those caught in its path." –Kirkus Reviews
"A gripping and sensitive story, which contains a vast amount of action in just 74 pages. It is fast moving and will keep the attention of even the most reluctant readers." –Ibby Link
"…accessible, fast-moving and instantly engaging." –Carousel
"This book cleverly dissects the effects of war from a child's perspective, depicting the violence and horror in an innocent and heartbreaking way." –Voice
Groups Represented
Rwandan
Themes
Immigration, family relationships, trauma
Setting
England
Author Research
The subjects that I choose, and the way in which I write about them are a reflection of the way that I see the world. I have always been passionate about inequalities and discrimination, and I have a strong sense of fairness. For many years I worked as a social worker, then a teacher, and more recently as an interpreter. When interpreting for asylum seekers and refugees, I have been privileged to hear the dark world of their stories and I have witnessed their suffering.
In writing stories about asylum-seekers and refugees, I hope to find a wide audience for their voices. I try to depict the heroic courage with which they face events over which they have little control. I try to show their moral strength, their courage and their heroism. They are individuals caught up in a web of other people's attitudes and the choices that governments make. We cannot change what has happened to make them flee from their countries, but we can try not to add to their problems by stigmatizing them for seeking asylum.
Engagement Projects
Leave a comment and let us know how you use this title!