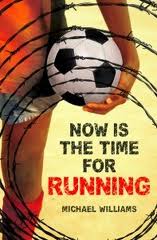 Now is the Time for Running
By Michael Williams
Published by Little, Brown Books for Young Readers
"Williams skillfully draws the plight of these refugee brothers with both suspense and sympathy, and readers cannot help but root for them in their quest to rebuild their broken lives." –Horn Books
Find a copy at Amazon | IndieBound | B&N
Description
Just down the road from their families, Deo and his friends play soccer in the dusty fields of Zimbabwe, cheered on by Deo's older brother, Innocent. It is a day like any other… until the soldiers arrive and Deo and Innocent are forced to run for their lives, fleeing the wreckage of their village for the distant promise of safe haven in South Africa. Along the way, they face the prejudice and poverty that greet refugees everywhere, but eventually Deo finds hope, joining dozens of other homeless, displaced teens on the World Cup Street Soccer team–a possible ticket out of extreme hardship to a new life.
Captivating and timely, Now Is the Time for Running is a staggering story of survival that follows Deo and his brother on a transformative journey that will stay with readers long after the last page.
Reviews & Accolades
"South African writer Williams delves deeply into the oppression, poverty, and xenophobia that plague so many nations in Africa in this gut-wrenching story of an outcast, soccer-loving teen from Zimbabwe…The obstacles the boys must overcome—traveling with no shoes and little money, confronting a hungry lion in a wild game reserve, and repeatedly withstanding prejudice and mistreatment as unwanted refugees—move the story along briskly, while its genuine and relatable characters keep it grounded. There is plenty of material to captivate readers: fast-paced soccer matches every bit as tough as the players; the determination of Deo and his fellow refugees to survive unthinkably harsh conditions; and raw depictions of violence…But it's the tender relationship between Deo and Innocent, along with some heartbreaking twists of fate, that will endure in readers' minds." –Publisher's Weekly
"Williams skillfully draws the plight of these refugee brothers with both suspense and sympathy, and readers cannot help but root for them in their quest to rebuild their broken lives… Williams joins Beverly Naidoo and Allan Stratton with this incisive portrait of sub-Saharan Africa, a compelling mix of suspense, sports, and social injustice." –Horn Books
"Williams tells his story simply and unflinchingly with depictions of tremendous violence, hard-fought soccer matches, and the loving bond between the brothers. Deo's narration provides an immediacy that is only compounded by the tale's fast pacing and suspense. The author gives readers complicated and compelling characters for whom they will cheer, cry with, and love." –School Library Journal
"Originally published in South Africa, this 2009 novel is gripping, suspenseful and deeply compassionate. Williams, a renowned dramatist, gives readers compelling characters and, in simple language, delivers a complicated story rooted—sadly and upliftingly—in very real events." –Kirkus Reviews
Groups Represented
Zimbabwean, South African
Themes
Family relationships, refugee life, survival, xenophobia
Setting
Zimbabwe
South Africa
Author Research
From the Author's Note: A photograph of a man burning to death during the xenophobic attacks in South Africa in 2008 forced me to ask the question: If people knew who that burning man was and how he came to be in South Africa, would they have killed him? To better answer that question, I decided that I had to find out more about refugees and how they came to be in my country.
While working in the soup kitchen at the Scalabrini Centre of Cape Town, I met three remarkable young Zimbabwean men, Usher Vundhla, Fantam, and Rasta. I spent several hours interviewing them for this novel…These young men, none of them more than twenty years old, were desperate to bring their families to South Africa, but given their lack of resources and the current political climate, this remains a remote possibility…The stories they told me of their journey to Cape Town, while we prepared food for other refugees, inspired much of this novel…I wanted to imagine what it must be like for two brothers to successfully make it to Johannesburg after a dangerous journey, only to face the hatred of the local people upon arrival.
Engagement Projects
Leave a comment and let us know how you use this title!