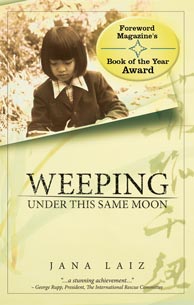 Weeping Under the Same Moon
By Jana Laiz
Published by Crow Flies Press
"This heartrending story really rings true and is impossible to ignore, especially since it's based on real events." –VOYA
"…the book vividly portrays very different yet intersecting worlds." –George Rupp, President, The International Rescue Committee
Find a copy at Amazon | IndieBound | B&N

Description
Mei is an artist whose life has been disrupted by the Vietnam War. Her anguished parents send her away on a perilous escape during the exodus of thousands of Vietnamese refugees known as "Boat People." In Mei's words we learn of the dangers she faces caring for her two younger siblings on a sea journey fraught with hunger, thirst and deprivation, leaving behind everything she loves, to find refuge for her family. Hannah is an angry seventeen-year-old American high school student. Friendless, neurotic, a social misfit – her passion for writing and the environment only intensify her outcast state. Through Hannah's voice, we get inside her head, there to discover a gentle soul beneath all the anger and turmoil. When Hannah learns of the plight of the "Boat People," she is moved to action. Destiny brings Mei and Hannah together in a celebration of cultures and language, food and friendship, and the ultimate rescue of both young women from their own despair. Weeping Under This Same Moon is a testament to the power of love and the spirit of volunteerism; affirming that doing for others does so much for one's self.
Reviews & Accolades
ForeWard Magazine's Book of the Year Gold Medalist, 2008
International Reading Assoication Notable Book

"This heartrending story really rings true and is impossible to ignore, especially since it's based on real events. The characters are particularly strong – resilient Mei, rebellious Hannah, or any of the others – and readers will find someone to whom they can relate." –VOYA
"Weeping Under This Same Moon by Jana Laiz is a stunning achievement written with uncanny sympathy and intuition from the complementary perspectives of two teenage girls – one a Vietnamese refugee, the other a passionate yet unhappy American high school student – the book vividly portrays very different yet intersecting worlds. It is a moving, heartwarming, even inspiring book. I recommend it enthusiastically to readers of all ages and in particular to young adults." –George Rupp, President, The International Rescue Committee
"Laiz shows impressive adeptness in presenting Mei and Hannah with distinctly different voices without taking away from the seriousness of their situations. As an examination of one girl's struggles with the loss of the only life she knew, and another girl's struggles to find a purpose to a life that is secure yet unfocused, the novel serves as a reminder of the smaller points of life that often tie people together…Laiz's novel is a standout in its simplicity…Each interaction, accomplishment and goal is completely within reach of every individual reader regardless of class, race, geography or era." –Jody Kordana, The Berkshire Eagle Newspaper (MA)
Groups Represented
Vietnamese
Themes
Multicultural friendship, immigration, refugee life
Setting
Vietnam, suburban US
Author Research
I, Jana Laiz am the author of Weeping Under This Same Moon, a fictionalized memoir that chronicles the lives of two girls from disparate cultures who find common ground and a friendship that lasts a lifetime. There were many challenges to writing outside my culture. Because I wrote both characters in the first person, I had to "become" Mei; become a Vietnamese refugee. Much of what I wrote came from what I learned about Vietnamese culture through my experience as a teen, but I had reach deeper to take on the persona of Mei. I did research and interviewed my Vietnamese "family." The most important source for writing this book was my thirty-year-old memory. Because the book is based on true events, I had to reach far back to recall feelings, events and incidents. This experience shaped my life, inspired me, gave my life a whole new direction, and I wanted to write it for young adults, especially those who might be going to what I went through as a teen; the feeling of not fitting in. I wanted to show my readers that you can change your own life as well as the lives of others by going outside your comfort zone and reaching out to lend a hand.
Engagement Projects
Leave a comment and let us know how you use this title!