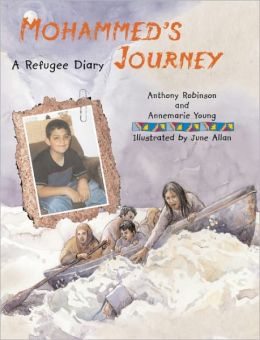 Mohammed's Journey: A Refugee Diary
By Anthony Robinson and Annemarie Young
Illustrated by June Allan
Published by Frances Lincoln Children's Books
"As students begin to study the reality of our world and the plight of refugees, this title is useful for its perspective." –School Library Journal
Find a copy at Amazon | IndieBound | B&N






Description
Mohammed was born in Kirkuk – the Kurdish part of Iraq. He speaks Kurdish, and now English too.
Saddam Hussein persecuted Mohammed's people long before he was born but Mohammed's journey started in October 2000 when Saddam's soldiers came to his house, beat him and his mother and took his father away. Mohammed never saw his father again.
This is his story. From that terrible night, to the escape from Iraq by bus, on horseback, in a small boat on a raging river and finally, hiding in a lorry on a ship. It covers his journey from Kirkuk to the Iraq-Iran border, through Iran, into Turkey and then on to England and safety.
Mohammed and his mother we were granted 'leave to stay' in England in 2002.
Reviews & Accolades
"The language is simple and clear, and the illustrations are a combination of fairly realistic drawings and photographs. As students begin to study the reality of our world and the plight of refugees, this title is useful for its perspective." –School Library Journal
"The full import of this [situation] can hardly be conveyed in a book that is intended for a pre-teen audience, although it is good to see it attempted. The matter-of-fact text and the restrained illustrations resist the exploitation of suffering and indignity and offer enough support to the text to provoke the reader's empathetic imagination. Colour photographs mounted as if in a scrapbook of snap shots, remind us that this is happened not so long ago and is still happening to children who sit in British classrooms." –Books for Keeps
Groups Represented
Kurdish
Themes
Immigration, family relationships
Setting
Iraq
England
See Also
Hamzat's Journey
Meltem's Journey
Gervelie's Journey
Author Research
TBA
Engagement Projects
Leave a comment and let us know how you use this title!