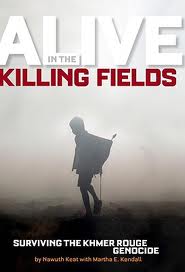 Alive in the Killing Fields: Surviving the Khmer Rouge Genocide
By Nawuth Keat and Martha Kendall
Published by National Geographic Children's Books
"This is a powerful story and one that will open the eyes of its readers in terms of what people are capable of, both good and bad." –Children's Literature
Find a copy at Amazon | IndieBound | B&N
Description
Alive in the Killing Fields is the real-life memoir of Nawuth Keat, a man who survived the horrors of war-torn Cambodia. He has now broken a longtime silence in the hope that telling the truth about what happened to his people and his country will spare future generations from similar tragedy.

In this captivating memoir, a young Nawuth defies the odds and survives the invasion of his homeland by the Khmer Rouge. Under the brutal reign of the dictator Pol Pot, he loses his parents, young sister, and other members of his family. After his hometown of Salatrave was overrun, Nawuth and his remaining relatives are eventually captured and enslaved by Khmer Rouge fighters. They endure physical abuse, hunger, and inhumane living conditions. But through it all, their sense of family holds them together, giving them the strength to persevere through a time when any assertion of identity is punishable by death.

Nawuth's story of survival and escape from the Killing Fields of Cambodia is also a message of hope; an inspiration to children whose worlds have been darkened by hardship and separation from loved ones. This story provides a timeless lesson in the value of human dignity and freedom for readers of all ages.
Reviews & Accolades
"Alive in the Killing Fields tells an epic story of survival…This biographical tale traces the torturous and at times tragic pathway that led Nawuth and most of his family to a refugee camp in Thailand and then emigration to the West. Recorded by Martha Kendall, Nawuth's story is a moving reminder of the price many people are willing to pay not only to survive but to reestablish a life of possibilities. This is a powerful story and one that will open the eyes of its readers in terms of what people are capable of, both good and bad." –Children's Literature
"Told with stark simplicity, Nawuth's narrative is memorable yet accessible to young readers." –VOYA
"In this memoir, written with the assistance of his college professor, Keat paints a poignant portrait of life as a child in Cambodia in the 1970s. His skills, cunning, and sheer will to survive enabled him to endure devastating occurrences and difficult living conditions. The story is not for the faint of heart, as suffering torture at the hands of soldiers, subsisting solely off of rice chaff, and being forced to sleep among human remains are only some of the atrocities he suffered. Keat's story is compelling and concise, and readers will find themselves invested in his eventual escape." –School Library Journal
Groups Represented
Cambodian
Themes
Survival, family death, genocide, immigration
Setting
Cambodia
Thailand
Author Research
Nawuth Keat inspired me to write "Alive in the Killing Fields, Surviving the Khmer Rouge Genocide."
An immigrant from Cambodia, Nawuth enrolled in my World Literature course at San Jose City College. One assignment was to review a book from a list I provided. He selected Teeda Butt Mam's memoir, "To Destroy You Is No Loss." I warned him that a previous semester a Cambodian student had been unable to finish the book because of the painful memories it resurrected. Nawuth nodded.
To my surprise, he did review that book. When he turned his paper in, he commented quietly to me, "Compared to my family, she didn't have it so bad." I gulped, but didn't feel I should ask him to explain. On the last day of the semester, Nawuth told our class, "I'd like to share my story with you."
In his rough English, he said that when he was nine years old, Khmer rouge gangs of thugs and criminals attacked his village. They murdered many of his family members, including his beloved mother. Nawuth was shot three times, but he survived.
My class and I listened, horrified, as Nawuth described the fear, hunger, and slavery he endured during the Khmer rouge reign of terror. I looked at my students and saw that I was not the only person with tears on my cheeks.
I asked Nawuth, "Do you want me to write your story down for you?"
"Yes," he replied.
That was a simple question and answer, but the process was far from simple. I have never been to Cambodia, much less experienced life there for a young boy. Nawuth was my main source of information, but his limited English posed a challenge. Also, I hoped to capture his experience in a way that readers who were not Cambodian could grasp. So I researched the Cambodian countryside, animal life, climate, and history. My goal was not to tell the whole story of the Khmer rouge era; instead, I wanted to convey Nawuth's personal truth as accurately as I could.
We met many times. I recorded his answers to my questions, and together we reviewed every draft of the chapters. He struggled with memories he had repressed, but he was determined that his story be told.
Because Nawuth was a child during the Khmer rouge takeover, I felt the book should be directed to readers of a similar age, few of whom could have imagined Nawuth's suffering. I wish no one had to endure such trauma, but I think we all benefit from his inspiring example of intelligence, courage, and a positive attitude.
Engagement Projects
Leave a comment and let us know how you use this title!