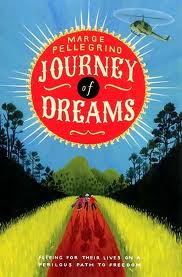 Journey of Dreams
By Marge Pellegrino
Published by Frances Lincoln Children's Books
"This novel will captivate both Latin American survivors of civil war and their peers. Outstanding." –Kirkus Reviews
"the plot's twists and turns…exemplify the lives of ordinary people caught up in horrific times and circumstances." –Children's Literature
Find a copy at Amazon | IndieBound | B&N
Description
For the peaceful highlanders of Guatemala, life has become a nightmare. Helicopters slash like machetes through the once-quiet air. Soldiers patrol the streets, hunting down suspected guerillas. Villagers mysteriously disappear and children are recruited as soldiers. Tomasa's family is growing increasingly desperate, especially after Mama goes into hiding with Tomasa's oldest brother. Finally, after their house is razed to the ground and the villagers massacred, Tomasa, Manuelito, and baby Maria set off with Papa on a perilous journey to find Mama and Carlos, only to discover that where one journey ends, another begins. This gripping novel tells the story of how Tomasa's family survives the Guatemalan army's brutal regime and how, in the midst of tragedy, their love and loyalty — and Papa's storytelling — keeps them going on their harrowing journey as refugees to the United States. Mirrored in the tapestries of Tomasa's dreams, the dramatic events of the Guatemalan army's "scorched earth" campaign of the 1980s are tempered with hope and the generosity of the human spirit.
Reviews & Accolades
"Drawn from Pellegrino's work with Central American refugees, this dramatic novel opens in 1984, during the violent conflict between indigenous Guatemalans and the government, which (an author's note explains) resulted in the death of some 150,000 people and the destruction of hundreds of villages. More than 200,000 fled Guatemala…At once lyrical and starkly realistic, the tale chronicles this close-knit family's harrowing, furtive journey across their country, through Mexico and finally into the U.S…Tomasa's voice should easily draw readers into this eye-opening story." –Publisher's Weekly
"Pellegrino's writing is often perfectly tuned to the child narrator's sensibility…She also paints in many subtle daubs of the shifting settings of Tomasa's harrowing journey…the plot's twists and turns—young Manuel's anger, and the unexpected revelations of the woman Juana's ordeal—exemplify the lives of ordinary people caught up in horrific times and circumstances." –Children's Literature
"Through [Tomasa's] narrative, readers can envision her family and village life as well as the sights of her journey from the mountains to the cities and north to America. This well-paced first-person account is full of suspenseful moments, but also psychologically convincing…Although Tomasa's journey takes a year, the pace moves along quickly. Still, there is room to recount Guatemalan folktales and show many details of village life as well as the refugee experience. A short background explanation, a glossary, and a map complete this harrowing but ultimately hopeful immigration story based on the author's work with refugees." –School Library Journal
"Pellegrino's great achievement resides in the authenticity of Tomasa's voice as a Mayan girl. This novel will captivate both Latin American survivors of civil war and their peers. Outstanding." –Kirkus Reviews
Groups Represented
Guatemalan
Themes
Survival, family relationships, immigration, oral traditions
Setting
Guatemala
Mexico
Phoenix, AZ
Author Research
I've worked with refugees since 1999 through The Hopi Foundation's Owl and Panther expressive arts project.
The threads of Journey of Dreams were spun with the voices of many Central American refugees who came to the United States during the Sanctuary movement. I saw Tomasa in the faces of children bent over papers writing poems and drawing dibujos. I tasted her experience in the food we shared. I smiled and cried with children like Tomasa, teased them, and was teased in return. I listened to refugees tell stories of their journeys
I wove those stories with details found in images that rose from pages of books, flickered on screens, and traveled on the voices of Sanctuary volunteers and health care professionals.
I struggled with whether I had the right to share Tomasa's story. Through wise council and soul searching, I accepted the responsibility to write in my language in a way that I hoped would bring a better understanding of refugees, the situations that lead them to flee and the forces that help them survive.
I also hope readers of any age and culture might be inspired by Tomasa's example and will walk a little braver on their own journeys.
Engagement Projects
VIEW a Discussion Guide (Word Doc)