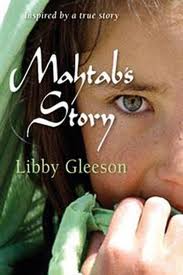 Mahtab's Story
By Libby Gleeson
Published by Allen and Unwin
"Gleeson has created a protagonist with the strength of a woman yet the naïveté of a child. Her writing style is fluid, and it captures readers' attention from the very beginning." –School Library Journal
Find a copy at Amazon | IndieBound | B&N

Description
Mahtab was hollow. Empty, as if her flesh and blood, her energy, that kept her breathing and running, thinking and talking, was gone. Nothing was in its place. She was hungry. Hungry for water, for her father, for her grandmother, her aunts and uncles, for the trees in the back yard, the cabinet on the wall, the silver and glass objects so lovingly collected, for her mountains, the jagged peaks that cut the sky. Her father was dead. She felt sure of it. She was just a speck of dirt on the floor, drifting through the gap between the boards, falling to the ground.
Mahtab and her family are forced to leave their home in Herat and journey secretly through the rocky mountains to Pakistan and from there to faraway Australia. Months go by, months of waiting, months of dread, with only memories and hopes to sustain them. Will they ever be reunited with their father, will they ever find a home? The plight of refugees from war-torn countries and what it really means to leave everything behind and to start a new life are vividly explored in this unforgettable story.
Reviews & Accolades
"With timely immediacy, this novel highlights the plight of a family fleeing Afghanistan after persecution by the Taliban, narrated by 12-year-old Mahtab." –Publisher's Weekly
"Gleeson does an excellent job of letting us know, through Mahtab's perspective, what Westernized cultures and people must look like to someone who comes from a very conservative country where men and women cover up their bodies. Gleeson also helps us feel Mahtab's fear, bewilderment, bone-deep cold, and oppressive, breath-stealing heat as they travel in numerous ways to reach their destination. Do not think for one minute that their arrival in Australia marks the end of their journey; instead, it marks the beginning of another phase of de-humanizing treatment in an isolated detention camp. Based on a true story,this book will be difficult for you to put one down." –Maggie Chase, Children's Literature
"In 2004, Gleeson met with a group of young Muslim expatriates. They shared their stories of persecution in their homelands and their arduous journeys to safety in Australia. Mahtab's Story, a work of fiction, is based on the experiences of an Afghani teenager…The journey is both sad and inspiring. Gleeson has created a protagonist with the strength of a woman yet the naïveté of a child. Her writing style is fluid, and it captures readers' attention from the very beginning. This is a striking piece of literature." –School Library Journal
Groups Represented
Afghan
Themes
Immigration, family relationships, refugee life
Setting
Afghanistan
Pakistan
Australia
Author Research
Mahtab's Story began with my anger and concern, post 9/11, with the way all people of the Muslim faith were demonised and treated as if they supported the act of the terrorists. I felt it would be terrible for young people of that community in Australia and so I was determined to write something. I began my research by speaking to a group of schoolgirls who had come to Australia from Afghanistan and from Iraq. The stories I heard were so compelling that I decided to create a fiction that drew largely on the experiences of one family escaping from the Taliban in the nineteen ninties. I changed their stories a little as I did not want to write a biography but everything in the novel did happen to someone known to my informants.
I was anxious to get the permission of the family to share their story and I spoke with them at length over many months. I am very grateful to the family for giving me their story and I am in awe of their bravery in setting out to escape the fear and the terror in their homeland.
Engagement Projects
VIEW a Teacher's Guide PDF
VIEW an interview with Libby about Mahtab's Story
Leave a comment and let us know how you use this title!