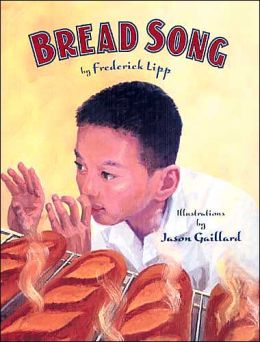 Bread Song
By Frederick Lipp
Illustrated by Jason Gaillard
Published by Mondo Pub
2006 Asian Pacific American Librarians Association Honor Picture Book
Find a copy at Amazon | IndieBound | B&N

Description
Hoping to make eight-year-old Chamnan, a new immigrant from Thailand, feel more at home, the owner of a Portland, Maine bakery invites him and his grandfather to hear the bread sing.
Reviews & Accolades
2006 Asian Pacific American Librarians Association Honor Picture Book
Groups Represented
Thai American
Themes
Immigration, Family relationships, community
Setting
Portland, Maine
Author Research
While minister of First Parish in Portland, my favorite stop was for a cup of coffee and a lemon poppy seed muffin at Standard Bakery. Early one morning in search of a picture book story, I asked the owner, "Alison is there something so unique, like a secret in the bakery that you can share with me?"
Without hesitation she answered, "All bakers know the secret of what's called the "Bread Song" – when we take the newly baked loaves out of the oven at dawn, they snap, crackle and wonderfully sing!"
Before the sun was up the next morning, I attended this life changing concert, and found my calling for what became Bread Song. Twenty-five steps from Standard Bakery was a Thai restaurant. I knew that for many new neighbors coming from around the world that simply speaking in English was an unsurmountable task that made the walk into an English speaking bakery an emotional challenge.
I wondered about the impact of a new neighbor hearing the bread sing, and how it would loosen the tongue of a child so to feel more at home in a strange land.
"Aha!"
Salman Rushdie knew this secret when he wrote, "My book celebrates hybridity, impurity, intermingling, the transformation that comes of new and unexpected combinations of human beings, cultures, ideas, politics, movies, songs…Mélange, hotchpotch, a bit of this and a bit of that is how newness enters the world…My book is for change by fusion, change by conjoining. It is a love-song…"
Engagement Projects
DOWNLOAD a discussion and engagement guide for the book
READ about the Bread Song engagement event in the community wide read series I'm Your Neighbor, Portland
Leave a comment and let us know how you use this title!