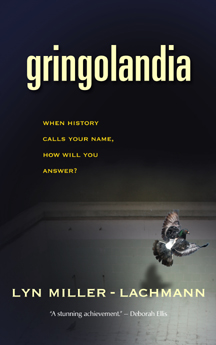 Gringolandia
By Lyn Miller-Lachmann
Published by Curbstone Books/Northwestern University Press
"Heartfelt and strong, with an in-your-face immediacy, this novel is revelatory in its portrayal of repressive regimes, immigrants, and familial relationships." –VOYA
"This poignant, often surprising and essential novel illuminates too-often ignored political aspects of many South Americans' migration to the United States." –Kirkus Reviews
Find a copy at Amazon | IndieBound | B&N
Description
Daniel's papá, Marcelo, used to play soccer, dance the cueca, and drive his kids to school in a beat-up green taxi—all while publishing an underground newspaper that exposed Chile's military regime.
After papá's arrest in 1980, Daniel's family fled to the United States. Now Daniel has a new life, playing guitar in a rock band and dating Courtney, a minister's daughter. He hopes to become a US citizen as soon as he turns eighteen.
When Daniel's father is released and rejoins his family, they see what five years of prison and torture have done to him. Marcelo is partially paralyzed, haunted by nightmares, and bitter about being exiled to "Gringolandia." Daniel worries that Courtney's scheme to start a bilingual human rights newspaper will rake up papá's past and drive him further into alcohol abuse and self-destruction. Daniel dreams of a real father-son relationship, but he may have to give up everything simply to save his papá's life.
Reviews & Accolades
ALA Best Books for Young Adults, 2010
Bank Street College of Education Best Children's Books of 2010
Américas Award Honor Book: IPPY (Independent Publishers Association) Gold Medal, 2010
Finalist, Foreword Book of the Year, YA Fiction 2010
"Daniel, almost eighteen, narrates most of this novel and conveys the hardship and heartache of being an immigrant in a one-parent family. Although Daniel perseveres, studying, working, and playing guitar with a band, his younger sister Tina has trouble adapting to her new country…Heartfelt and strong, with an in-your-face immediacy, this novel is revelatory in its portrayal of repressive regimes, immigrants, and familial relationships." –VOYA
"Miller-Lachmann skillfully incorporates elements of family drama, teen romance, and political thriller into this story of a father and son reknitting themselves into each other's lives…From the stark cover image of an empty pool used to torture victims to the intensely poignant essay that concludes the novel, this is a rare reading experience that both touches the heart and opens the mind." –School Library Journal
"Two adolescents, Daniel Aguilar, a high-school student and rock singer, and his girlfriend, Courtney Larkin, a young, passionate writer, recount through separate narration the painful recovery of Chilean Marcelo Aguilar, Daniel's father, tortured under Pinochet's dictatorship in the 1980s. Both of them will travel with Marcelo through the horrifying memories of his five years of imprisonment as he struggles, physically and mentally and with very limited success, to adjust to his new home, a small apartment in Madison, Wis., and to his now-unknown bilingual and bicultural family. His wife Vicky, a graduate student, sells empanadas to make extra money, while Tina, his brilliant 12-year-old daughter, has her own troubles. How, through Marcelo, Daniel discovers the Chilean that still lives inside him, and how Courtney, "la gringa," teaches Marcelo that the land of gringos is not only the home of those who supported the military coup in his country in 1973 but also a land of human-rights lovers make for riveting reading. This poignant, often surprising and essential novel illuminates too-often ignored political aspects of many South Americans' migration to the United States." –Kirkus Reviews
Groups Represented
Chilean American
Themes
Immigration, family relationships, trauma
Setting
Santiago, Chile
Author Research
TBA
Engagement Projects
Leave a comment and let us know how you use this title!