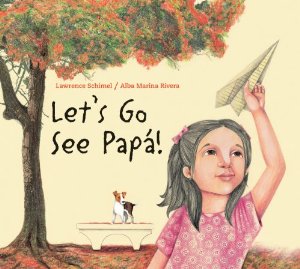 Let's Go See Papá
By Lawrence Schimel
Translated by Elisa Amado
Illustrated by Alba Marina Rivera
Published by Groundwood Books
"While this is clearly a much-needed story that effectively captures the experience faced by many immigrant families, its themes are relevant to all children." –Kirkus Reviews
Find a copy at Amazon | IndieBound | B&N
Description
The little girl in this story likes Sundays best of all — it's the day her father calls. She hasn't seen him for over a year because he works far away across the ocean in the United States. She writes in her notebook every day, keeping a record of everything that happens to share with him when she finally sees him again. And she thinks about the fun they used to have when he was home — taking their dog Kika to the park and buying freshly baked bread together. Then one Sunday her father asks if she and her mother would like to join him, and she's surprised by her mixed feelings. It means leaving her grandmother, her friends . . . and Kika behind.
This is a powerful story from a young child's perspective about what it's like to have an absent parent and to have to leave your home, country and those you love for a new life.
Reviews & Accolades
"The cheery title aside, this is at times a heart-wrenching story of separation (the girl even tries to pack poor Kika into her suitcase). Schimel, ably translated by Amado, never coddles his heroine or papers over the hard realities she faces; even the ending, which finds the girl on a plane heading for the States, is tinged with emotional ambivalence. Rivera fills the pages with poignant, angular portraits and telling details…there will be readers who will admire the heroine's stoicism and faith in the importance of having her family whole again." –Publisher's Weekly
"The unnamed child in this book has a universally understood problem. Her Papa is missing from her life. He is working far away in another country…This story is the very definition of bittersweet…The book beautifully sums up the emotion of losing the familiar and trading it for the excitement of new experiences. A lovely picture of the child cuddled on her grandmother's lap captures the tug of loss surrendering to love and comfort, perfectly…Although this book is written by a Spanish author and, presumably, the child is Spanish, the message translates clearly to every child who is facing upheaval and trading comfort for new experiences. A lovely and moving (in every sense) book."–Lois Rubin Gross, Children's Literature
"A young girl realizes that moving to the United States to live with her father means leaving familiarity behind…Schimel takes readers into the mind of the unnamed girl through his skillful use of the first-person narration, while Rivera's mixed-media illustrations combine traditional materials with photocopies and transfers to give some pages a scrapbooklike appeal. Readers will enjoy deciphering the various visual elements. While this is clearly a much-needed story that effectively captures the experience faced by many immigrant families, its themes are relevant to all children." –Kirkus Reviews
Groups Represented
Latino
Themes
Family relationships, immigration
Setting
Unnamed Latin American country
Author Research
TBA
Engagement Projects
Leave a comment and let us know how you use this title!