Reading Harry Potter increases tolerance?
A new study conducted in Italy and England and published in the Journal of Applied Social Psychology showed that young people that read J.K. Rowling's series and discussed sections of the book that deal with prejudice showed improved attitudes towards immigrants, GBLTQ citizens, and other minority groups. More here.
Imagine that. Those who identified with Harry standing up for mudbloods and house elves and thwarting the malevolence of the Malfoys are better citizens.
Speaking of citizens and the need to be better, there are certain American citizens who need Harry in their lives. The protests over the influx of unaccompanied minors and families is looking quite Malfoy-like.
Maybe more than the Malfoys could use some children's literature to put a face on new arrivals from Latin America.
Here are some recommendations from Curious City's radio appearance on Green Mountain Mornings available as a podcast here plus a few more suggestions…
________________________________________________________________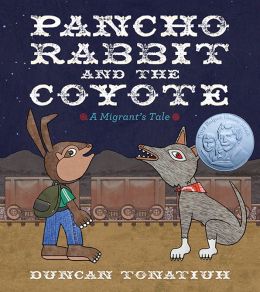 Pancho Rabbit and the Coyote: A Migrant's Tale

By Duncan Tonatiuh
Publisher: Abrams, Harry N., Inc.
ISBN-13: 9781419705830
Age range: 6 – 9 Years
Locate a copy at Local Bookstore
In this allegorical picture book, a young rabbit named Pancho eagerly awaits his papa's return. Papa Rabbit traveled north two years ago to find work in the great carrot and lettuce fields to earn money for his family. When Papa does not return, Pancho sets out to find him. He packs Papa's favorite meal—mole, rice and beans, a heap of warm tortillas, and a jug of aguamiel—and heads north. He meets a coyote, who offers to help Pancho in exchange for some of Papa's food. They travel together until the food is gone and the coyote decides he is still hungry . . . for Pancho!
Duncan Tonatiuh brings to light the hardship and struggles faced by thousands of families who seek to make better lives for themselves and their children by illegally crossing the border.
________________________________________________________________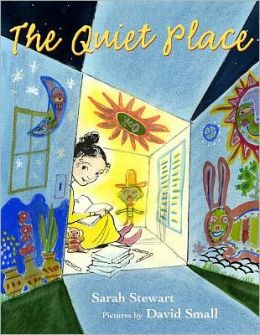 The Quiet Place

By Sarah Stewart,
Illustrated by David Small
Publisher: Farrar, Straus and Giroux
ISBN-13: 9780374325657
Ages 5-9
Locate a copy at Local Bookstore
When Isabel and her family move to the United States, Isabel misses all the things she left behind in Mexico, especially her aunt Lupita and hearing people speak Spanish.  But she also experiences some wonderful new things—her first snow storm and a teacher who does not speak Spanish but has a big smile. Even better, Papa and her brother Chavo help her turn a big box into her own quiet place, where she keeps her books and toys and writes letters to Aunt Lupita. As she decorates and adds more and more on to her quiet place, it is here that Isabel feels the most at home in her new country while she learns to adjust to the changes in her life.
Set in the 1950s and told through Isabel's letters to her aunt, Sarah Stewart and Caldecott Medalist David Small have created a charming and unforgettable young heroine who will win the hearts of readers in this story of immigration and assimilation.
________________________________________________________________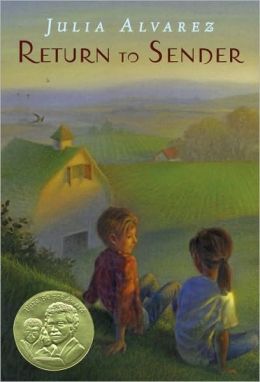 Return to Sender

By Julia Alvarez
Publisher: Random House Children's Books
ISBN-13: 9780375851230
Age range: 8 – 12
Locate a copy at Local Bookstore
"After Tyler's father's accident, his family hires undocumented Mexican workers in a last-ditch effort to keep their Vermont farm. Despite his reservations, Tyler soon bonds with a worker's daughter, who is in his sixth-grade class. His problems seem small compared to Mari's: her family fears deportation, and her mother has been missing since re-entering the States months ago. While this novel is certainly issue-driven, Alvarez (Before We Were Free) focuses on her main characters, mixing in Mexican customs and the touching letters that Mari writes to her mother, grandmother and even the U.S. president. Readers get a strong sense of Tyler's growing maturity, too, as he navigates complicated moral choices. Plot developments can be intense: Mari's uncle lands in jail, and her mother turns out to have been kidnapped and enslaved during her crossing. Some characters and sentiments are over-the-top, but readers will be moved by small moments, as when Tyler sneaks Mari's letter to her imprisoned uncle, watching as the man puts his palm on the glass while Tyler holds up the letter from the other side. A tender, well-constructed book."
—Publishers Weekly
________________________________________________________________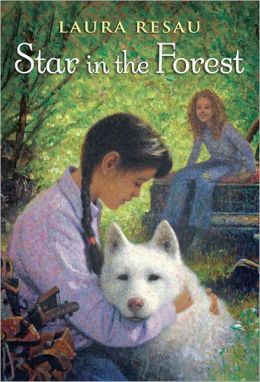 Star in the Forest

By Laura Resau
Publisher: Random House Children's Books
ISBN-13: 9780375854101
Age range: 7 – 10 Years
Locate a copy at Local Bookstore
Zitlally's family is undocumented, and her father has just been arrested for speeding and deported back to Mexico. As her family waits for him to return—they've paid a coyote to guide him back across the border—they receive news that he and the coyote's other charges have been kidnapped and are being held for ransom. Meanwhile, Zitlally and a new friend find a dog in the forest near their trailer park. They name it Star for the star-shaped patch over its eye. As time goes on, Zitlally starts to realize that Star is her father's "spirit animal," and that as long as Star is safe, her father will be also. But what will happen to Zitlally's dad when Star disappears?
"A vibrant, large-hearted story." —Publishers Weekly, Starred Review
________________________________________________________________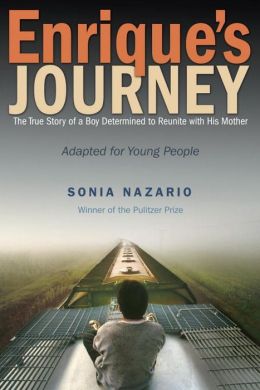 Enrique's Journey:
The True Story of a Boy Determined to Reunite with His Mother
By Sonia Nazario
Publisher: Random House Children's Books
ISBN-13: 9780385743280
Age range: 12+
Locate a copy at Local Bookstore
Adapted for young people, this edition of Enrique's Journey is written by Sonia Nazario and based on the adult book of the same name. It is the true story of Enrique, a teenager from Honduras, who sets out on a journey, braving hardship and peril, to find his mother, who had no choice but to leave him when he was a child and go to the United States in search of work. Enrique's story will bring to light the daily struggles of migrants, legal and otherwise, and the complicated choices they face simply trying to survive and provide for the basic needs of their families. The issues seamlessly interwoven into this gripping nonfiction work for young people are perfect for common core discussion. Includes an 8-page photo insert, as well as an epilogue that describes what has happened to Enrique and his family since the adult edition was published.
________________________________________________________________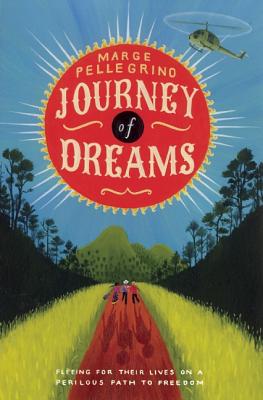 Journey of Dreams

By Marge Pellegrino
Publisher: Frances Lincoln Children's Books
ISBN-13: 9781845079642
Age range: 11-14
Locate a copy at Local Bookstore
This is the story of how one family survives the Guatemalan army's "scorched earth" campaign in the 1980s and how, in the midst of tragedy, suspicion and fear, their resilient love and loyalty — and Papa's storytelling — keeps them going. On their harrowing journey as refugees to the United States, the dramatic ebb and flow of events are mirrored in the tapestries of one daughter's dreams.
"A modern Underground Railroad story." — ABC Best Books for Children
________________________________________________________________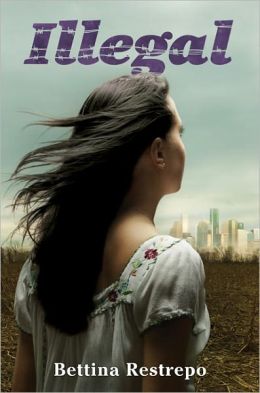 Illegal
By Bettina Restrepo
Publisher: HarperCollins Publishers
ISBN-13: 9780061953422
Age range: 13 – 17 Years
Locate a copy at Local Bookstore
A promise.

Quinceañera.

A promise that we would be together on my fifteenth birthday . . .
Instead, Nora is on a desperate journey far away from home. When her father leaves their beloved Mexico in search of work, Nora stays behind. She fights to make sense of her loss while living in poverty—waiting for her father's return and a better day. When the letters and money stop coming, Nora decides that she and her mother must look for him in Texas. After a frightening experience crossing the border, the two are all alone in a strange place. Now, Nora must find the strength to survive while aching for small comforts: friends, a new school, and her precious quinceañera.
________________________________________________________________
RESOURCES
Pura Belpré Award
The award is named after Pura Belpré, the first Latina librarian at the New York Public Library. The Pura Belpré Award, established in 1996, is presented annually to a Latino/Latina writer and illustrator whose work best portrays, affirms, and celebrates the Latino cultural experience in an outstanding work of literature for children and youth. It is co-sponsored by the Association for Library Service to Children (ALSC), a division of the American Library Association (ALA), and REFORMA, the National Association to Promote Library and Information Services to Latinos and the Spanish-Speaking, an ALA affiliate.

La Casa Azul Bookstore
La Casa Azul Bookstore is dedicated to providing cultural, and educational programs via literature and art in East Harlem. It is our vision to foster public awareness and appreciation of the arts by being a focal point where people come to find unique art and books; and participate in culturally-based programs that celebrate Latino traditions and literature.
Read about how they are supporting unaccompanied minors (and how you can help) here.  Curious City was happy to contribute the titles below to their book drive.