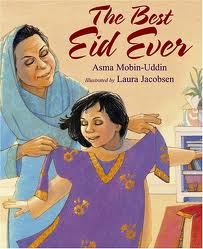 The Best Eid Ever
By Asma Mobin-Uddin
Illustrated by Laura Jacobsen
Published by Boyds Mills Publisher
"This beautifully composed story straddles two worlds-America and Islamic Indo-Pakistani culture…This is a welcome contribution, giving much-needed visibility to a celebration observed by over ten million people in North America." –School Library Journal
Find a copy at Amazon | IndieBound | B&N
Description
It's Eid, and Aneesa should be happy. But her parents are thousands of miles away for the Hajj pilgrimage. To cheer her up, her grandmother gives her a gift of beautiful clothes, one outfit for each of the three days of Eid. At the prayer hall, Aneesa meets two sisters who are dressed in ill-fitting clothes for the holiday. Aneesa discovers that the girls are refugees. Aneesa can't stop thinking about what Eid must be like for them, and she comes up with a plan to help make it the best Eid holiday ever.
Reviews & Accolades
"This beautifully composed story straddles two worlds-America and Islamic Indo-Pakistani culture…This is a heartwarming tale of a child's generosity, and Jacobsen's illustrations flesh out the warmth and tenderness of the characters' interaction. This is a welcome contribution, giving much-needed visibility to a celebration observed by over ten million people in North America." –School Library Journal
"[T]he clearly written story will interest many children, including those who have never heard of this special day. Jacobsen's pastel-pencil pictures illustrate the story with warmth…this is a welcome addition to holiday collections." –Booklist
"After reading this book, children will have a greater appreciation for the Muslim culture and will have no problem realizing that love is an action word. This book would be a nice read-aloud for elementary age children." –Roxanne Welch Mills, Library Media Connection
Groups Represented
Muslim
Themes
Celebration, charity
Setting
United States
Author Research
TBA
Engagement Projects
Leave a comment and let us know how you use this title!