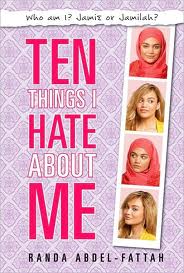 Ten Things I Hate About Me
By Randa Abdel-Fattah
Published by Orchard Books
"On one level an accessible and enjoyable drama of teenage live, on another, a thought-provoking examination of the pressures faced by young women, particularly Muslims, growing up in a westernized society, this is a book every library should contain." –The Guardian (UK)

Find a copy at Amazon | IndieBound | B&N




Description
"At school I'm Aussie-blonde Jamie — one of the crowd. At home I'm Muslim Jamilah — driven mad by my Stone Age dad. I should win an Oscar for my acting skills. But I can't keep it up for much longer…"
Jamie just wants to fit in. She doesn't want to be seen as a stereotypical Muslim girl, so she does everything possible to hide that part of herself. Even if it means pushing her friends away because she's afraid to let them know her dad forbids her from hanging out with boys or that she secretly loves to play the darabuka (Arabic drums).
Reviews & Accolades
Kathleen Mitchell Award for Excellence in Young Adult Writing 2008
Short listed for the Redbridge Book Award 2008, London
"Jamilah Towfeek hides her Lebanese-Muslim background from the other kids at her Australian school "to avoid people assuming I fly planes into buildings as a hobby."…the author brings a welcome sense of humor to Jamilah's insights about her culture, and she is equally adept at more delicate scenes, for example, Jamilah's father recounting memories of Jamilah's mother. For all the defining details, Jamilah is a character teens will readily relate to." –Publisher's Weekly
" Fans of Abdel-Fattah's Does My Head Look Big in This? (Scholastic, 2007) will snap this title up, but the book will also appeal to teens who like stories about outsiders finding their place in the world." —Kristin Anderson, School Library Journal
"The plot is contrived, with a sweet resolution, and the messages are spelled out as Jamilah realizes that she sees herself as a stereotype. But the teen's present-tense narrative is as hilarious as the narrator's in Abdel-Fattah's first book and is just as honest about the shocking prejudice against Muslims. Teens will love the free-flowing, funny dialogue, even as they recognize their own ways of covering up who they are." –Hazel Rochman, Booklist
"On one level an accessible and enjoyable drama of teenage life, on the other a thought-provoking examination of the pressures faced by young women, particularly Muslims, growing up in a westernized society, this is a book every school library should contain." –The Guardian (UK) 
Groups Represented
Lebanese Australian
Muslim
Themes
Cultural identity, personal identity, family death, family relationships, multicultural friendship, overcoming prejudices,
Setting
Australia
Author Research
School playgrounds are no longer mono-cultural. They're melting pots of cultures, races and faiths. So how do teenagers from minority communities negotiate their existence and identity when they're burdened by stereotypes and prejudices? And how do teenagers who don't conform to popular culture's so-called role models of beauty and lifestyle find the strength to be true to themselves? These are the kinds of questions I try to explore in Does My Head Look Big In This? and Ten Things I Hate About Me. Whether it's Amal, who has decided to wear the hijab, or Timothy, who refuses to conform just to fit in with the popular crowd, or Simone, who wants to be thin, or Jamilah, who lives a double life to avoid people knowing about her background, I'm interested in the pressures teenagers have to cope with in trying to find their identity.
"Nappy-head". "Towel-Head." "Terrorist". For Muslim teenage girls who wear the hijab, and are therefore immediately identifiable as Muslims, the main struggle is to live against the perception that you are oppressed or part of a threatening 'other'. It's exhausting to always be on the defensive, resisting a stereotype of victimhood, especially when you're a teenager trying to figure out who you are! I wrote Does My Head Look Big In This? and Ten Things I Hate About Me because I wanted to explore characters who are really struggling to figure out who they are and fit in. Some of them feel like they're living in a zoo: locked in the cage of other people's stereotypes, prejudices and judgments, on parade to be judged! Others want to be accepted for who they are, but can't even accept themselves. Ultimately, my characters are learning that if they want the respect of others, they have to have self-respect first.
Engagement Projects
Leave a comment and let us know how you use this title!