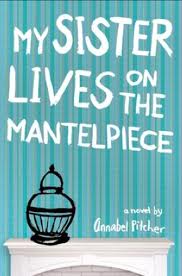 My Sister Lives on the Mantlepiece
By Annabel Pitcher
Published by Little Brown Books for Young Readers
"This book is a great catalyst for opening conversations about death and loss as well as difficult discussions about hatred and prejudice." –Children's Literature
"This debut novel, set in the UK, will resonate with readers in post-9/11 America, many of whom will also relate to the issues of family alcoholism, bullying, and friendship that transcend cultural divisions…Don't let it fall between the cracks." –School Library Journal
Find a copy at Amazon | IndieBound | B&N
Description
My sister Rose lives on the mantelpiece. Well, some of her does. A collarbone, two ribs, a bit of skull, and a little toe.
To ten-year-old Jamie, his family has fallen apart because of the loss of someone he barely remembers: his sister Rose, who died five years ago in a terrorist bombing. To his father, life is impossible to make sense of when he lives in a world that could so cruelly take away a ten-year-old girl. To Rose's surviving fifteen year old twin, Jas, everyday she lives in Rose's ever present shadow, forever feeling the loss like a limb, but unable to be seen for herself alone.
Told with warmth and humor, this powerful novel is a sophisticated take on one family's struggle to make sense of the loss that's torn them apart… and their discovery of what it means to stay together.
Reviews & Accolades
"In this powerfully honest, quirkily humorous debut novel, first published in the U.K., 10-year-old narrator Jamie and his family are still dealing with his sister Rose's death in a terrorist bombing five years earlier…Jamie's pivotal friendship with a Muslim girl, Sunya, is a standout. Pitcher tackles grief, prejudice, religion, bullying, and familial instability through the unsentimental voice of a boy who loves Spider-Man and Manchester United, misses his mother, and—truth be told—doesn't remember his dead sister all that well. The adults in Pitcher's story may be a mess, but the kids are all right." –Publisher's Weekly
"Pitcher tells a captivating story of love and loss and mourning. As Jamie's friendship with Sunya grows, he struggles to understand the grief that is tearing his family apart and the prejudice that poisons his father's world view. This book is a great catalyst for opening conversations about death and loss as well as difficult discussions about hatred and prejudice." –Children's Literature
"Capturing the confusion of an optimistic but sensitive child navigating a tough situation without guidance, Jamie's narration is by turns comic and painful. His only friend is Sunya, whose headscarf billows behind her like a superhero cape and who helps Jamie fight the class bully…The fact that Sunya is Muslim and therefore, according to Jamie's dad, responsible for Rose's death, is a brilliant counterpoint and an issue that Jamie must work through. Each character is believably flawed, and readers anticipate the heartbreaking scene when Jamie's plans for a family reunion fail. However, the final triumphant chapters of this striking debut demonstrate that even as Jamie's sorrows increase, so too, does his capacity for understanding, courage and love…Realistic, gritty and uplifting. –Kirkus Reviews
"Jamie speaks about situations that he doesn't fully understand, but that teens will, and the contrast between Jamie's innocence/naïveté and the circumstances in which he finds himself are striking. His voice is compelling and believable, and his narrative is by turns heartbreaking and hysterically funny. This debut novel, set in the UK, will resonate with readers in post-9/11 America, many of whom will also relate to the issues of family alcoholism, bullying, and friendship that transcend cultural divisions…Don't let it fall between the cracks." –School Library Journal
Groups Represented
Muslim
Bangladeshi English
Themes
Family Relationship, Family Death, Sibling Relationship, Multicultural Friendship
Setting
English countryside
Author Research
TBA
Engagement Projects
Leave a comment and let us know how you use this title!