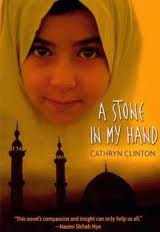 A Stone in my Hand
By Cathryn Clinton
Published by Candlewick Press
"With a sharp eye for nuances of culture and the political situation in the Middle East, Clinton has created a rich, colorful cast of characters and created an emotionally charged novel." –School Library Journal
Find a copy at Amazon | IndieBound | B&N

Description
The year is 1988 in Gaza City, and it has been a month since eleven-year-old Malaak's father left to seek work in Israel, only to disappear. Every day Malaak climbs to the roof and waits, speaking little to anyone, preferring the company of the little bird she has tamed. But her twelve-year-old brother, Hamid, has a different way of coping. He feels only anger, stoked by extremists who say violence is the only way to change their fate. Malaak's mother begs him to stay away from harm, but Malaak lives in fear of losing her brother as well. What will it take for her to find her voice—and the strength to move past the violence that surrounds her?
Reviews & Accolades
"Set in a Palestinian community in Gaza City during the intifada of 1988 and 1989, the novel opens with its narrator, 11-year-old Malaak, traumatized, barely talking and immersed in a fantasy life involving a tame bird…Malaak's victories are hard-won, without benefit of a happy or tidy ending, and poetically wrought. The harsh portrayal of the Israeli occupation will be painful for many readers-and may even anger some-but Clinton's overall message is transcendently humane. A memorable achievement." –Publisher's Weekly
"A moving story of courage, loss, personal growth, and familial love, set in 1988 in the Middle East…Malaak is a strong character who longs for her father's physical presence but finds solace and comfort when communicating with him on a spiritual level. Events move quickly and consistently throughout the story, and all of the characters are well drawn. With a sharp eye for nuances of culture and the political situation in the Middle East, Clinton has created a rich, colorful cast of characters and created an emotionally charged novel." –School Library Journal
"Here is a book that will have American child readers thinking about "others"—others whom they may have considered enemies, perhaps thought about as "less than" themselves, even less than human…An unusual book, it is very moving in its realistic picture of a society at the opposite side of life." –Children's Literature
"The complexities of the situation—of families wanting peace, of dreams of a place to call home, and the allure of militant groups to fighters such as Hamid—are woven into this powerful portrayal told in spare, poetic prose. Clinton takes her readers seriously and presents history and politics in an engaging, human story of one young girl and her family. There are no neat resolutions here, only a fully realized account, told with compassion and hope. The beautiful writing and timely subject warrant a wide audience for this must-read." –Kirkus Reviews
Groups Represented
Palestinian
Themes
Family relationships, trauma, multicultural understanding
Setting
Gaza Strip
Author Research
TBA
Engagement Projects
Leave a comment and let us know how you use this title!