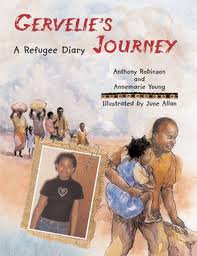 Gervelie's Journey: A Refugee Story
By Anthony Robinson and Annemarie Young
Illustrated by June Allan
Published by Frances Lincoln Children's Books
"Gervelie's Journey…will be invaluable tools both for refugees who may be seeking mirrors of their own experiences; and for helping to promote understanding among children who welcome refugees into their neighborhoods and schools." –Marjorie Coughlan, Paper Tigers
Find a copy at Amazon | IndieBound | B&N

Description
When Nkoula Thesia Gervelie was born in 1995 in the Republic of Congo, her mother and father had a nice house in a suburb of Brazzaville. When fighting broke out two years later, her father's political connections put the family in grave danger and they were forced to flee. Gervelie's Journey follows the family from Congo to the Ivory Coast, and then to Ghana, across Europe, and finally to England. Told in Gervelie's own voice and using her own photographs, it depicts with grace and sensitivity their long journey, their life in a new country, and their new hopes for the future.
Reviews & Accolades
"This is a powerful journal of a young girl's life as she flees across the planet – escaping war, abuse, and other dangers. This is not a book that I would have a child read alone. It is one that should be a shared experience between an adult and child – just as we shared the story of young Narisula, an Iraqi boy maimed by a cluster bomb. Though his story was painful, sharing it with children allowed us to talk about war and its effects on a real person, a child. The children we spoke with were moved, some to tears, but they were also moved to think about war in a completely new way – not as the video games and movies showed it, but for real. Not everyone can go to a war zone and gather real stories like we did, but thank goodness authors like Anthony Robinson and Annemarie Young have started to gather and tell more of these stories. We're excited to offer this first in their series, and look forward to more in 2009." –Reach and Teach
"The first two books in what is set to become a much sought-after series, Gervelie's Journey and Mohammed's Journey tell the true stories, in child refugees' own words, of how and why children have to leave their home countries and make a new life for themselves somewhere else: in this case, the UK. They both serve as powerful and poignant testimony to the courage and perseverance of young refugees.
Authors Robinson and Young have succeeded in retaining Gervelie's…individual voice…The collage effect of June Allen's expressive water-colors overlain with photographs provide a potent visual message. Both these accounts read like adventure stories, except that there is no hyperbole: the horrors these children recount have no need for exaggeration…By focusing on the journey and arrival in the UK, the books help readers realize that the stress, hardship and anxiety these children go through don't stop at the moment they escape their homeland…Gervelie's Journey…will be invaluable tools both for refugees who may be seeking mirrors of their own experiences; and for helping to promote understanding among children who welcome refugees into their neighborhoods and schools." –Marjorie Coughlan, Paper Tigers
"Everyone will admire the plucky Gervelie, who has high hopes for the future in spite of the troubled past…Educators should integrate the book with other stories of war and displacement in order to put Congo's troubles and Gervelie's trauma in perspective." –African Access
Groups Represented
Congolese
Themes
Immigration, family relationships
Setting
Republic of Congo
Ivory Coast
See Also
Hamzat's Journey
Meltem's Journey
Author Research
TBA
Engagement Projects
Leave a comment and let us know how you use this title!