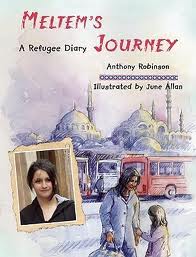 Meltem's Journey: A Refugee Diary
By Anthony Robinson
Illustrated by June Allan
Published by Frances Lincoln Children's Books
"Starkly realistic and eye-opening, if emotionally difficult." –Kirkus Reviews
"The book succeeds in its encouragement of understanding and empathy for Meltem and other refugee children." –Books for Keeps
Find a copy at Amazon | IndieBound | B&N
Description
This fourth book in the Refugee Diary series follows a Kurdish family from Eastern Turkey. 13 year old Meltem tells the story of their journey to the UK, and the harrowing months waiting to find out if they can stay in Britain. Meltem encounters racism, her father goes missing and the family is sent to Yarl's Wood detention centre. But the end of the story is full of hope for the future, as the family is at last given permission to stay in the UK and Meltem starts a new school and makes friends.
Reviews & Accolades
"Robinson relates the events from Meltem's perspective, keeping the book's focus child-centered. The political intricacies of governmental immigration policies and racial group discrimination are not explored, leaving plenty of room for discussion. Meltem just wanted to live in a safe place with her parents, have friends, and go to school. The realistic watercolor and pen-and-ink illustrations incorporate borders that recall Turkish designs, and two photographs of Meltem are included."–School Library Journal
"The constant movement—in and out of apartments, transitions to several schools, detainment, even imprisonment—and the final loss of her father to cancer culminate in some serious psychological problems for this child, who openly exhibits anxiety and depression. Loose watercolors against pale green backgrounds, some with folk-art borders, occasionally complemented by photographic inserts, depict the family and their continually changing situation. Robinson's text is blunt and often choppy, reflecting the girl's voice in her newly acquired English. Meltem's plight ends on a positive tone with official permission to stay in England providing some stability through a new high school, friends and the dream of becoming a doctor. Starkly realistic and eye-opening, if emotionally difficult." –Kirkus Reviews
"This account is ideal for children living in a politically stable society, to inform them about their less fortunate peers in other countries and about these people's search for freedom and stability." –IBBY
"Meltem's childhood of snatched chances of a normal home and school life is retold clearly as if in her own voice, without a trace of resentment or self pity, by Anthony Robinson. Both his text and June Allan's illustrations emphasise the strength that Meltem draws from family and friends as much as the ordeal that they have been through and, like the previous books, the story ends on a positive note, although it cannot do for all such families. The book succeeds in its encouragement of understanding and empathy for Meltem and other refugee children." –Books for Keeps
Groups Represented
Turkish
Themes
Immigration, family death, racial discrimination
Setting
Turkey
Germany
England
See Also
Hamzat's Journey
Gervelie's Journey
Mohammed's Journey
Author Research
TBA
Engagement Projects
Leave a comment and let us know how you use this title!