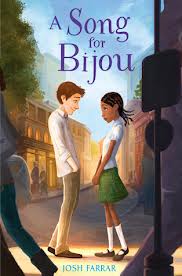 A Song for Bijou
By Josh Farrar
Published by Walker Children's
Farrar handles race and the complexities of interracial relationships by implication, through Alex's discovery of the vibrant, new (to him) world just blocks away. A solid, timely effort." –Kirkus Reviews
Find a copy at Amazon | IndieBound | B&N
Description
Life for Alex Schrader has never involved girls. He goes to an all-boys prep school and spends most of his time goofing around with his friends. But all that changes the first time he meets Bijou Doucet, a Haitian girl recently relocated to Brooklyn after the earthquake-and he is determined to win her heart. For Bijou, change is the only constant, and she's surprised every day by how different life is in America, especially when a boy asks her out. Alex quickly learns that there are rules when it comes to girls-both in Haitian culture and with his own friends. And Bijou soon learns that she doesn't have to let go of her roots to find joy in her new life.
Told in alternating viewpoints against the vibrant backdrop of Haitian-American culture, Alex and Bijou take their first tender steps toward love in this heartwarming story.
Reviews & Accolades
"In this modern-day Romeo and Juliet romance, Farrar contrasts the cultures of two neighborhoods and two students in Brooklyn, N.Y….Courting Bijou proves problematic for Alex since Bijou's strict uncle won't let her leave the house unescorted—it takes creative strategizing, help from mutual friends, and breaking household rules for the two to get together…Alex and Bijou's narrative voices are distinct and authentic. Readers will admire his heroic traits and sympathize with her conflicting loyalties." –Publisher's Weekly
"In alternating entries, Bijou and Alex tell their stories of attraction, cross-cultural complications, and the intricacies of seventh-grade society. Bijou begins to learn that accepting new customs does not mean betraying the old ones, and Alex learns that being a good friend is not always straightforward–and also how to play the Haitian rada drum. Farrar takes his time with this book, telling a quiet, sweet story about friendship and self-discovery…Bijou tries to honor her heritage, overcome past tragedy, and learn how to live in a new culture. Characters, both major and minor, are complex and believable. The portrayal of middle school is spot-on." –VOYA
"Surviving middle school and puberty is an age-old challenge that video cameras and YouTube have only complicated, as vividly demonstrated in this enjoyable, seriocomic tale of new love, culture clash, adolescent social stratification and friendship…love leads [Alex] to unexpected places: to Flatbush and Haitian rara music, to discover a talent for drumming, to examine unquestioned values and priorities…Farrar handles race and the complexities of interracial relationships by implication, through Alex's discovery of the vibrant, new (to him) world just blocks away. A solid, timely effort." –Kirkus Reviews
Groups Represented
Haitian
Themes
Multicultural friendship, immigration, cultural traditions, cultural identity, cultural differences, family relationships
Setting
Brooklyn, New York
Author Research
TBA
Engagement Projects
Leave a comment and let us know how you use this title!