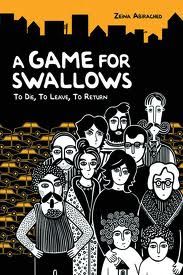 A Game for Swallows: To Die, to Leave, to Return
By Zeina Abirached
Translated by Edward Gauvin
Published by Graphic Universe
"For young readers, "A Game for Swallows" will come as a revelation. At a time when the Middle East is still in turmoil and when Americans have suffered losses of electricity and other necessities during recent storms and floods, this is a story that will hit home even as it causes young, impressionable eyes to look at life abroad." –The New York Times
Find a copy at Amazon | IndieBound | B&N

Description
When Zeina was born, the civil war in Lebanon had been going on for six years, so it's just a normal part of life for her and her parents and little brother. The city of Beirut is cut in two by bricks and sandbags, threatened by snipers and shelling. East Beirut is for Christians, and West Beirut is for Muslims. When Zeina's parents don't return from a visit to the other half of the city, and the bombing grows ever closer, the neighbors in her apartment house create a world indoors for Zeina and her brother, where they can share cooking lessons and games and gossip. Together they try to make it through a dramatic evening in the one place they hoped they would always be safe—home.
Reviews & Accolades
"…Abirached approaches her personal story ambitiously, weaving the stories of her family members and their circle of neighbors and acquaintances into a tapestry of everyday life in war-torn East Beirut. Their tales are fascinating, and often brutal in their details…Less a story than a portrait of a family and a city and a culture under siege, the narrative unfolds somewhat disjointedly, intentionally perhaps — as a means of conveying the haphazard and precarious nature of life in a city beset by civil war….The profound dislocation of living in a war zone is palpable on every page. And an ominous question hangs over it all: Will Abirached's parents return? And if they do, what exactly will they be returning to? The book's strengths are myriad. Abirached is a lovely artist, and her characters' faces are remarkably expressive. There is much humor, a welcome relief from the chaos and heartache of the human stories within. For young readers, "A Game for Swallows" will come as a revelation. At a time when the Middle East is still in turmoil and when Americans have suffered losses of electricity and other necessities during recent storms and floods, this is a story that will hit home even as it causes young, impressionable eyes to look at life abroad." –The New York Times
"A stark look at the civil war in Lebanon in the 1980s…Through austere black-and-white illustrations (with a detectable influence from Persepolis' Marjane Satrapi), Abirached easily conveys the overarching sense of unease and how something as simple as a visit to grandma's can inspire fear. Abirached's readers will instantly empathize with those who do not readily have access to simple luxuries many take for granted—running water, electricity or the simple return of our loved ones from an outing—and this may perhaps spur them to re-examine what they may have otherwise overlooked.

 Quietly mesmerizing and thought-provoking." –Kirkus Reviews
"Bold, graphic, black-and-white images are visually and emotionally striking. Excellent use of maps and diagrams provides reference points and enhances understanding of spatial relationships. Unique panel placement includes several sequences of horizontal strips, read as columns. Images portray elapsed time, such as repeated smoking and countdown panels, and control pacing while revealing mounting tension. Excruciating wait time is depicted with cumulative "tic" and "toc" filling successive panels. Circular images of an embracing family contrast with the stark linear images of a war-torn country. Warmth and humor of daily life is shown in baking and storytelling, and wedding-dress close-ups touchingly highlight a mother's worry over soiling the hem, masking her worry over sniper fire. This superb memoir is destined to become a classic." –School Library Journal
"We learn about Lebanon and the conflict there through the stories of the children's neighbors, who gather in the family apartment as shells blast the streets outside. Physically, Abirached's illustrations look a lot like Satrapi's black and white blocky style. Abirached adds value by integrating several maps and the odd photograph which help provide context for the reader who might not be intimately familiar with this often overlooked country and its history. Giving the story the framework of this one night and the parade of neighbors works well as a way of getting to the meat of how it feels to live inside a conflict-ridden zone. A valuable selection for any library." –Children's Literature
Groups Represented
Lebanese
Christian
Muslim
Themes
War, family relationships, community
Setting
Beirut
Author Research
TBA
Engagement Projects
Leave a comment and let us know how you use this title!